The Simpsons is the longest running scripted show in US television history. It captures the adventures of Homer, Marge, Maggie, Bart and Lisa who are living in a fictional town called Springfield.
Add to my shows
Next episode
A Made Maggie 33x10
20.12.2021
Fat Tony becomes Godfather to Maggie Simpson.
season 7
Summer of 4 ft. 2 07x25
20.05.1996
On vacation, Lisa plays dumb to make friends with the "cool" kids, leaving a jealous Bart all burned up, with Milhouse as his only comrade.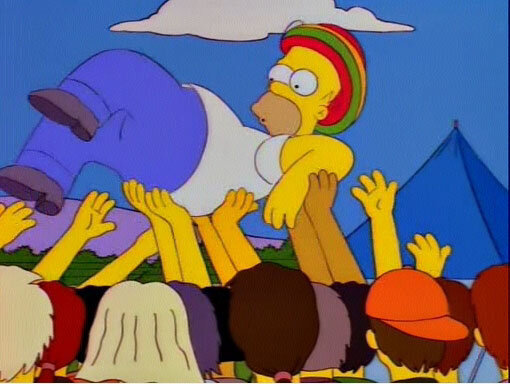 Homerpalooza 07x24
20.05.1996
Homer goes on tour with Hullabalooza, a rock concert featuring sideshow acts. His talent: catching a cannonball with his belly.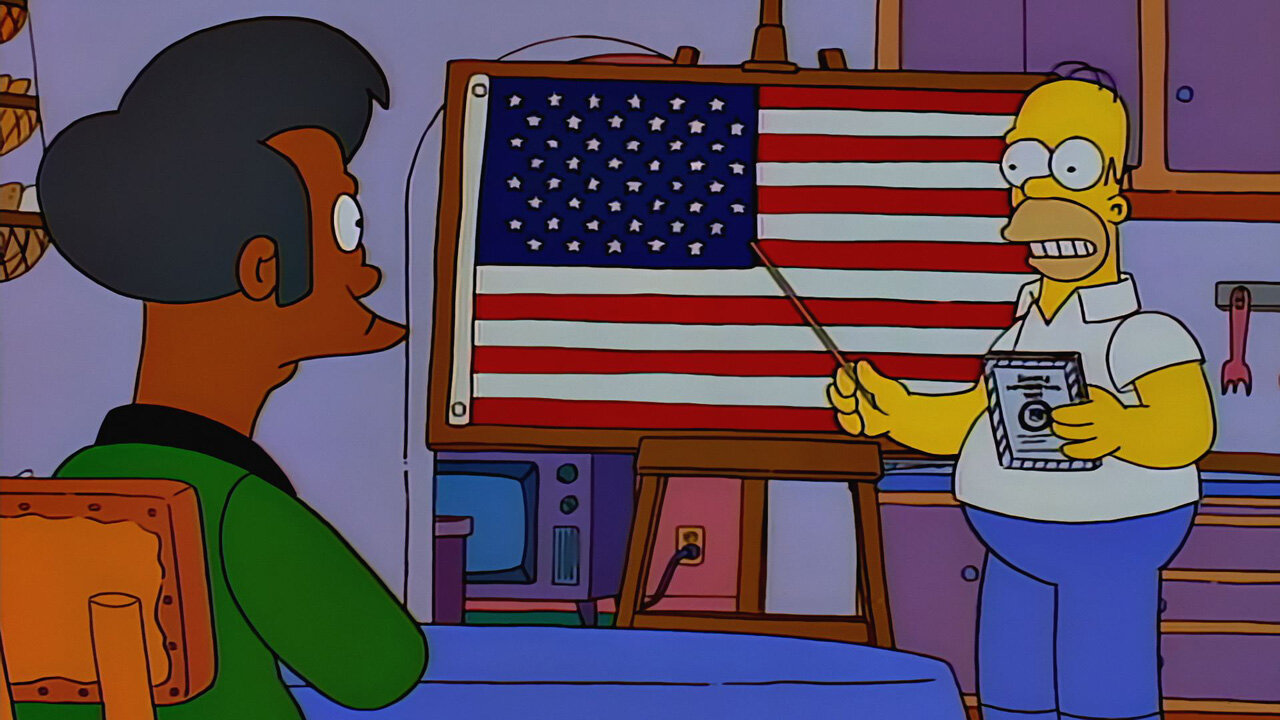 Much Apu About Nothing 07x23
06.05.1996
Marge and Homer support a proposal to deport illegal immigrants from Springfield---until they learn it would affect Apu, who buys fraudulent identification documents from Fat Tony (voice of Joe Mantegna).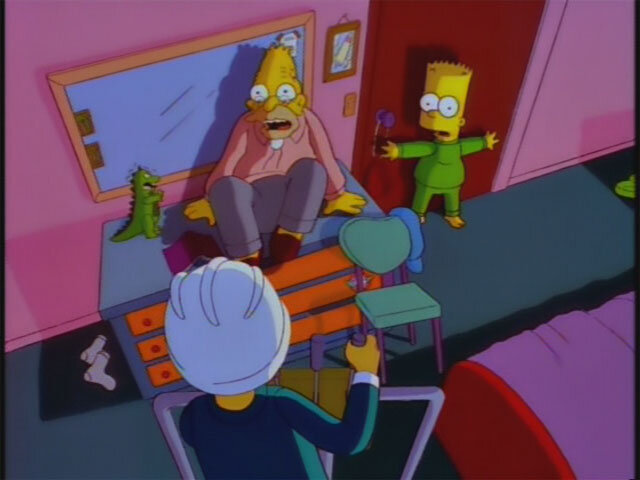 Raging Abe Simpson and His Grumbling Grandson in "The Curse of the Flying Hellfish" 07x22
29.04.1996
Mr. Burns tries to kill Grampa Simpson to seize a treasure the two found during World War II as members of the "Flying Hellfish" battalion.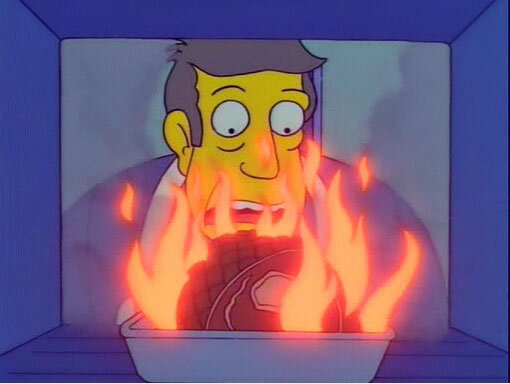 22 Short Films About Springfield 07x21
15.04.1996
Interconnecting vignettes depict moments in the lives of Springfield residents, including Apu's partying activities; Smithers' allergic reaction to a bee sting; and Dr. Nick's appearance before a medical review board.
Bart on the Road 07x20
01.04.1996
Bart drives Milhouse, Martin and Nelson to Tennessee, thanks to his fake ID and Martin's cash from a stock dividend.
A Fish Called Selma 07x19
25.03.1996
Selma dates Troy McClure, whose agent (voice of Jeff Goldblum) reports that being seen in public with a woman is a career boost that could make people forget "that scandal at the aquarium."
The Day the Violence Died 07x18
18.03.1996
Bart wants justice done after learning that the animator (voice of Kirk Douglas) who created Itchy was ripped off. Lionel Hutz takes the animator's case.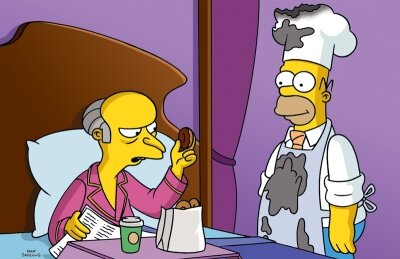 Homer the Smithers 07x17
26.02.1996
Homer succumbs to job stress while subbing for Smithers as Burns' assistant.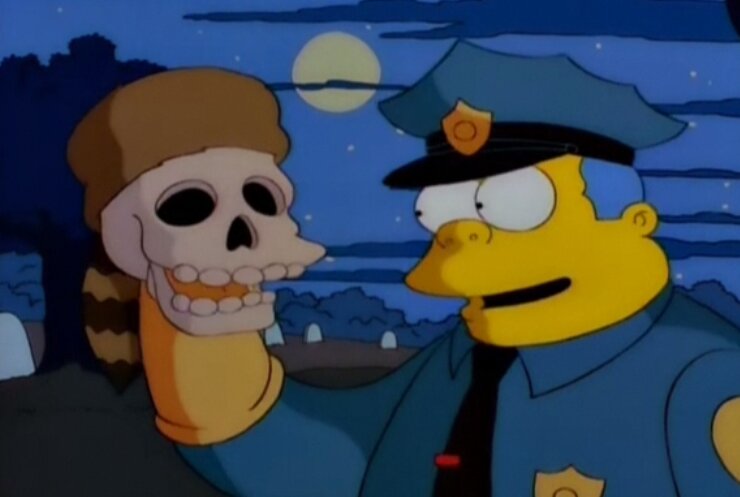 Lisa the Iconoclast 07x16
19.02.1996
Lisa's research on Jebediah Springfield turns up some unknown---and unpopular---facts.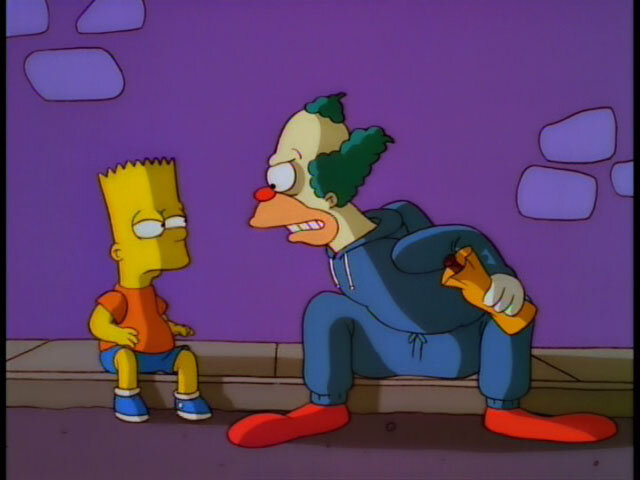 Bart the Fink 07x15
12.02.1996
Bart inadvertently alerts the IRS to tax fraud by Krusty, whose possessions are auctioned off by the Government.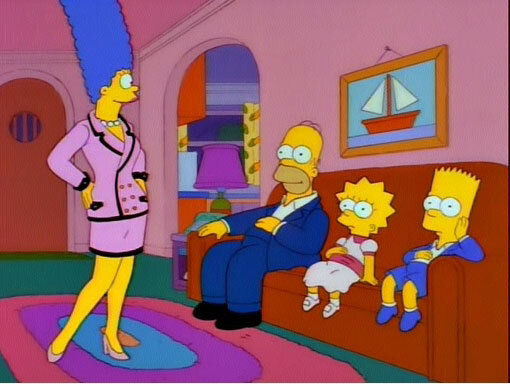 Scenes from the Class Struggle in Springfield 07x14
05.02.1996
Marge's new designer suit nets her an invitation to the Springfield Country Club, where she finds it's a stress to dress to impress. Meanwhile, "natural" golfer Homer hits the links with Mr. Burns.
Two Bad Neighbors 07x13
15.01.1996
Homer is irked by his new neighbors, former U.S. President George Bush and Former U.S. First Lady Barbara Bush, especially when Mr. Bush gives Bart a spanking and criticizes Homer's parenting for menacing and ruined to have the outboard motor to damage Former President George Bush's new memoirs that he was working in his autobiography.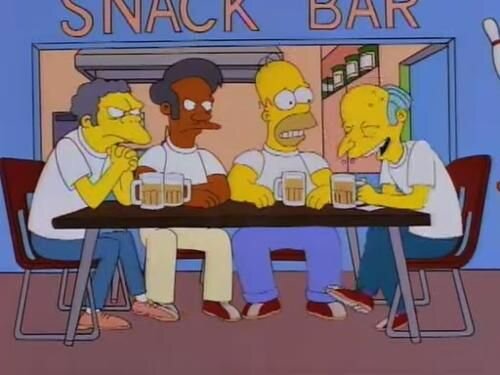 Team Homer 07x12
08.01.1996
Homer, Moe, Apu and Otto form a bowling team; Bart's prank leads Springfield Elementary to adopt school uniforms.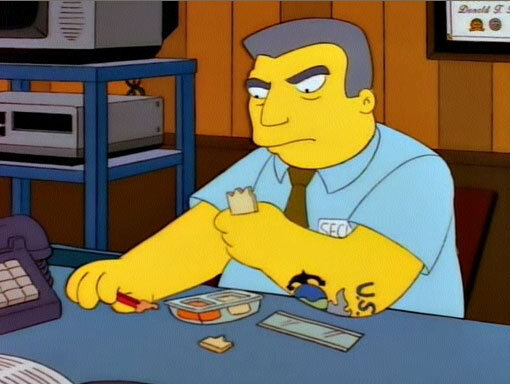 Marge Be Not Proud 07x11
18.12.1995
Busted for shopliting, Bart manages to keep the incident quiet---until he returns to the store for the Simpsons' Christmas portrait. And the news is devastating to Marge.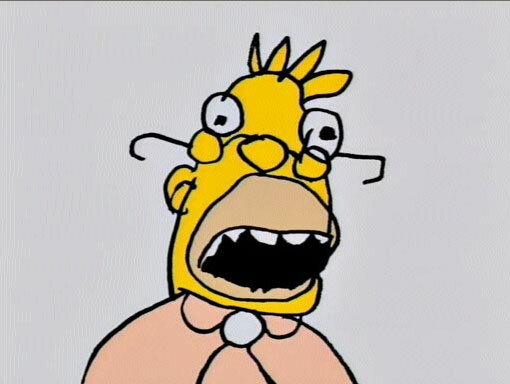 The Simpsons 138th Episode Spectacular 07x10
04.12.1995
Troy McClure hosts a retrospective featuring Simpsons history and trivia, and series "outtakes," including an alternate ending to the "Who Shot Mr. Burns?" episode and a burping contest between Barney and baseball's Wade Boggs.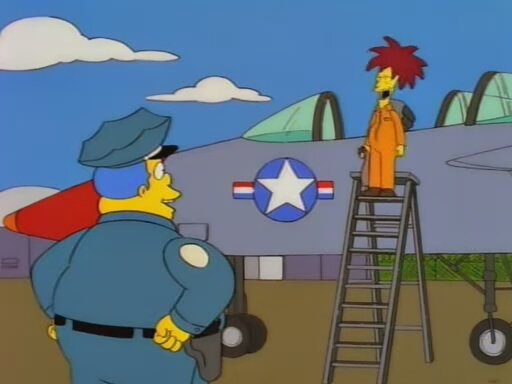 Sideshow Bob's Last Gleaming 07x09
27.11.1995
Sideshow Bob (voice of Kelsey Grammer) steals an atomic bomb and demands that Springfield abolish television. Blackboard: 'Wedgies are unhealthy for children and other living things'.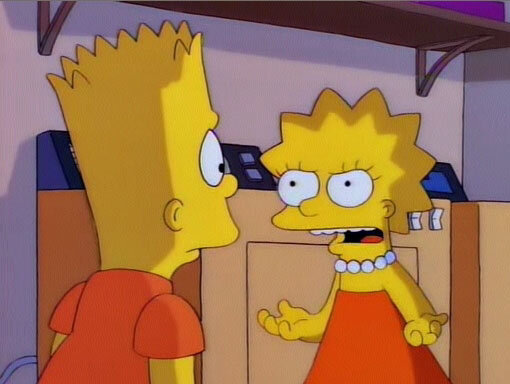 Mother Simpson 07x08
20.11.1995
Homer comes face-to-face with his long-lost mother (voice of Glenn Close)---who reveals why she abandoned him.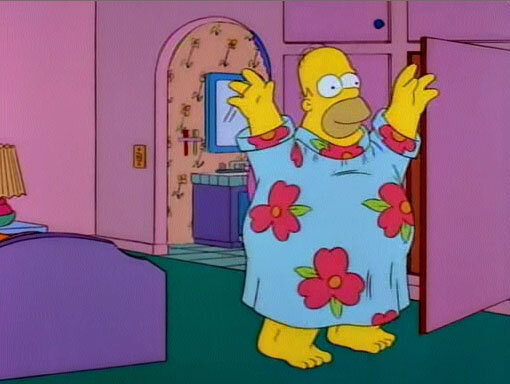 King-Size Homer 07x07
06.11.1995
Homer purposely gains weight to qualify for disability, disdaining Marge's complaints and the fact that she's losing interest in him physically. Blackboard: 'Indian burns are not our cultural heritage'.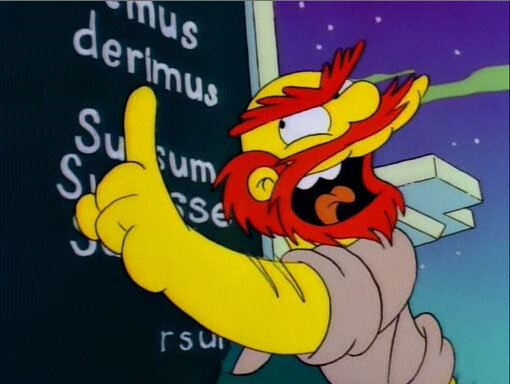 Treehouse of Horror VI 07x06
30.10.1995
Halloween 1996: Homer tumbles into another dimension in a story spun off "The Twilight Zone"; Paul Anka helps combat the "Attack of the 50-Foot Eyesores"; and Groundskeeper Willie appears in a spoof of "A Nightmare on Elm Street."
Lisa the Vegetarian 07x05
16.10.1995
Vegetarian Lisa ruins Homer's barbecue, but she gets moral support from Apu and his friends, Paul and Linda McCartney.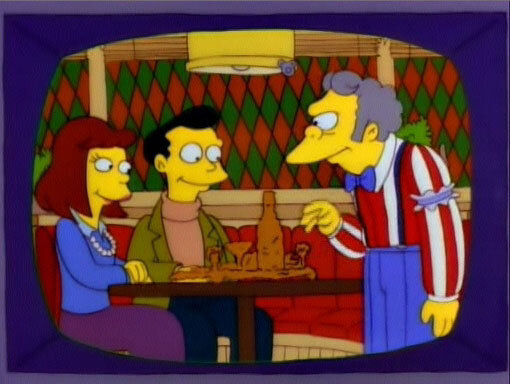 Bart Sells His Soul 07x04
09.10.1995
Bart sells his soul to Milhouse for five bucks; Moe goes after the family crowd. Blackboard 'I am not a lean mean spitting machine.'.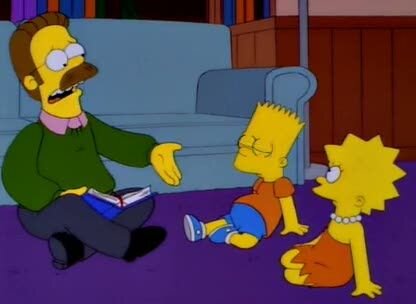 Home Sweet Homediddly-Dum-Doodily 07x03
02.10.1995
Innocent mishaps draw the attention of investigators, who put the Simpson kids in a foster home---the Flanders'. Blackboard: 'No one want's to hear from my armpits'.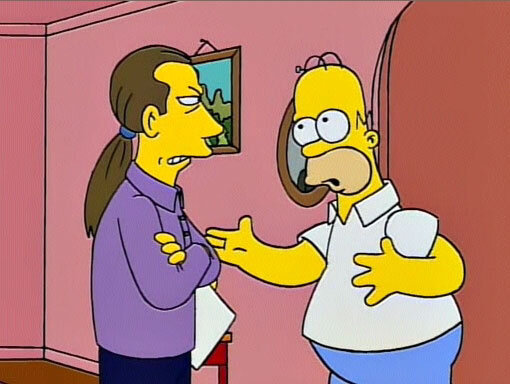 Radioactive Man 07x02
25.09.1995
Bart auditions for the part of Fallout Boy in the movie "Radioactive Man," being filmed in Springfield. Blackboard: 'Bewitched does not support satanism'.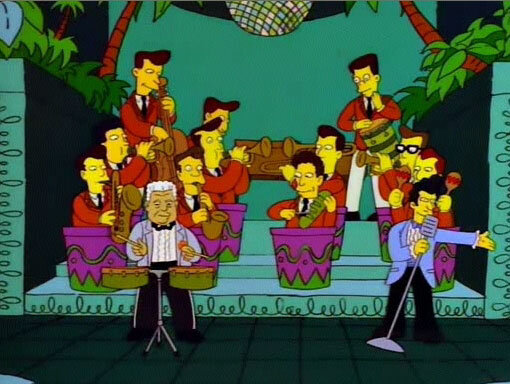 Who Shot Mr. Burns? (2) 07x01
18.09.1995
Chief Wiggum conducts an investigation into who shot Mr. Burns in an episode that parodies TV dramas, including "Dallas," "Twin Peaks" and "The Fugitive."