The Simpsons is the longest running scripted show in US television history. It captures the adventures of Homer, Marge, Maggie, Bart and Lisa who are living in a fictional town called Springfield.
Add to my shows
Next episode
A Made Maggie 33x10
20.12.2021
Fat Tony becomes Godfather to Maggie Simpson.
season 26
Mathlete's Feat 26x22
18.05.2015
When a modernized Springfield Elementary has a technical meltdown, Lisa transforms it into a Waldorf school. Meanwhile, Groundskeeper Willie becomes the coach of the mathletes.
Bull-E 26x21
11.05.2015
After Bart gets bullied at the school dance, Marge convinces the town to pass anti-bullying legislation. Homer then gets arrested and sent to rehab for bullying Ned Flanders, only to subsequently leave rehab as a hero.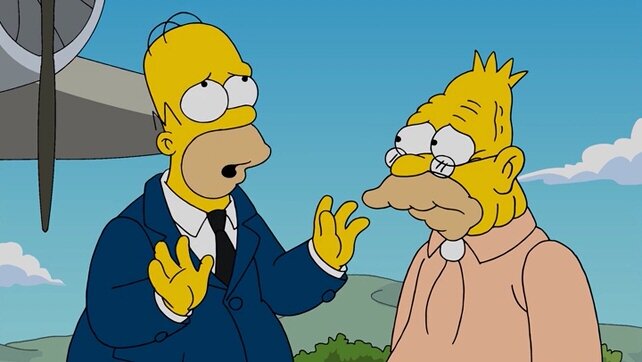 Let's Go Fly a Coot 26x20
04.05.2015
The Simpsons learn about Grampa's days in the Air Force, and Bart takes up smoking to impress Milhouse's Dutch cousin, Annika,.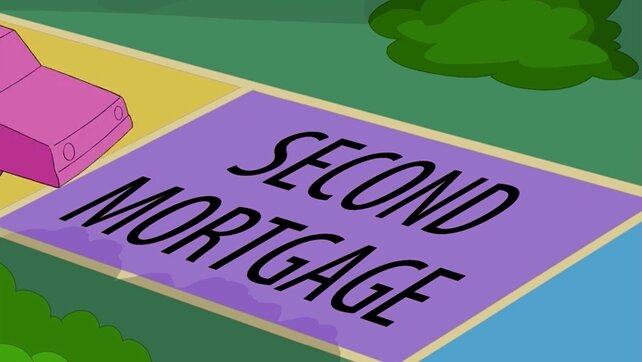 The Kids Are All Fight 26x19
27.04.2015
When Homer gets an old film roll developed, the family takes a trip down memory lane to see the origins of how Bart and Lisa first started fighting with each other. Blackboard: 'I will not pay my sister to do my punishment'.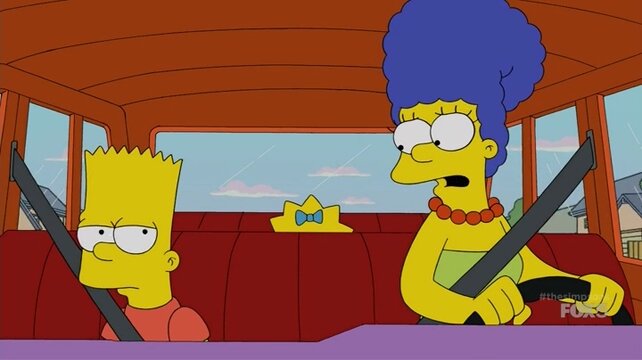 Peeping Mom 26x18
20.04.2015
Bart lies about being involved in a bulldozer crash, so Marge decides to follow him everywhere until he confesses. Meanwhile, Homer ignores Santa's Little Helper when Flanders gets a new dog.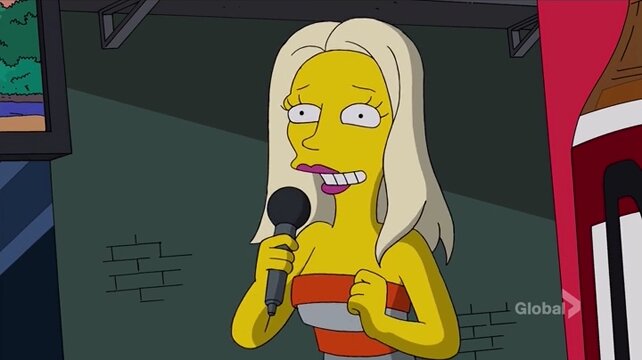 Waiting for Duffman 26x17
16.03.2015
When Duffman undergoes hip replacement surgery and retires, the company sets up a reality show competition to find his replacement. Homer wins the competition, and because the job requires him to stay sober, he learns that beer isn't as necessary as he thought to have a good time.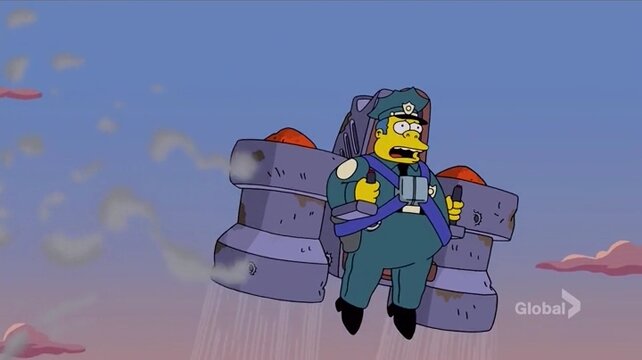 Sky Police 26x16
09.03.2015
Chief Wiggum is mistakenly delivered a military jet pack, which he gleefully accepts and uses in order to fight crime. But when the jet pack crashes into the church, the congregation, led by Marge, must resort to gambling and counting cards in order to collect money to repair the church.
The Princess Guide 26x15
02.03.2015
Homer is put in charge of keeping Princess Kemi out of trouble while her father, a Nigerian king, works out a uranium deal with Mr. Burns. When Kemi ends up at Moe's, Moe jumps to the conclusion that she must be related to the Nigerian prince who scammed him over email and schemes to get his money back. But much to his surprise, he finds himself falling for the princess.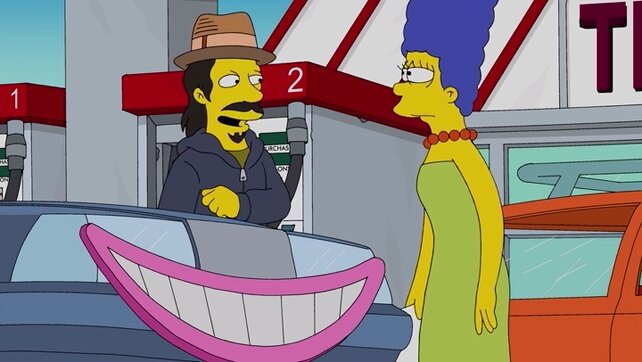 My Fare Lady 26x14
16.02.2015
When Marge gets fed up with the thankless duty of chauffeuring her kids around, she begins working as a driver for a transportation app service. Meanwhile, Homer bankrupts Moe when he watches over the bar for one night, which forces Moe to take a temporary job as a janitor at the nuclear plant.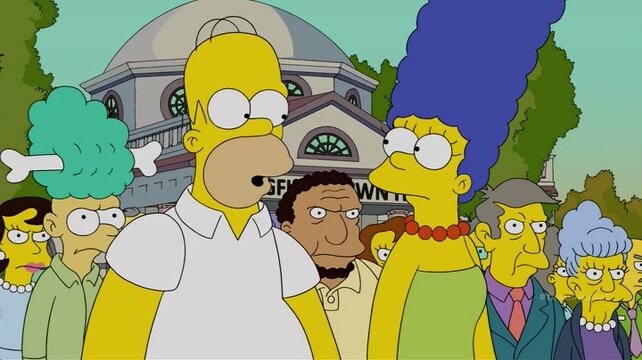 Walking Big & Tall 26x13
09.02.2015
When Lisa learns Springfield's anthem was stolen from another town she writes a replacement. Meanwhile, Homer learns the meaning of "Wide Pride".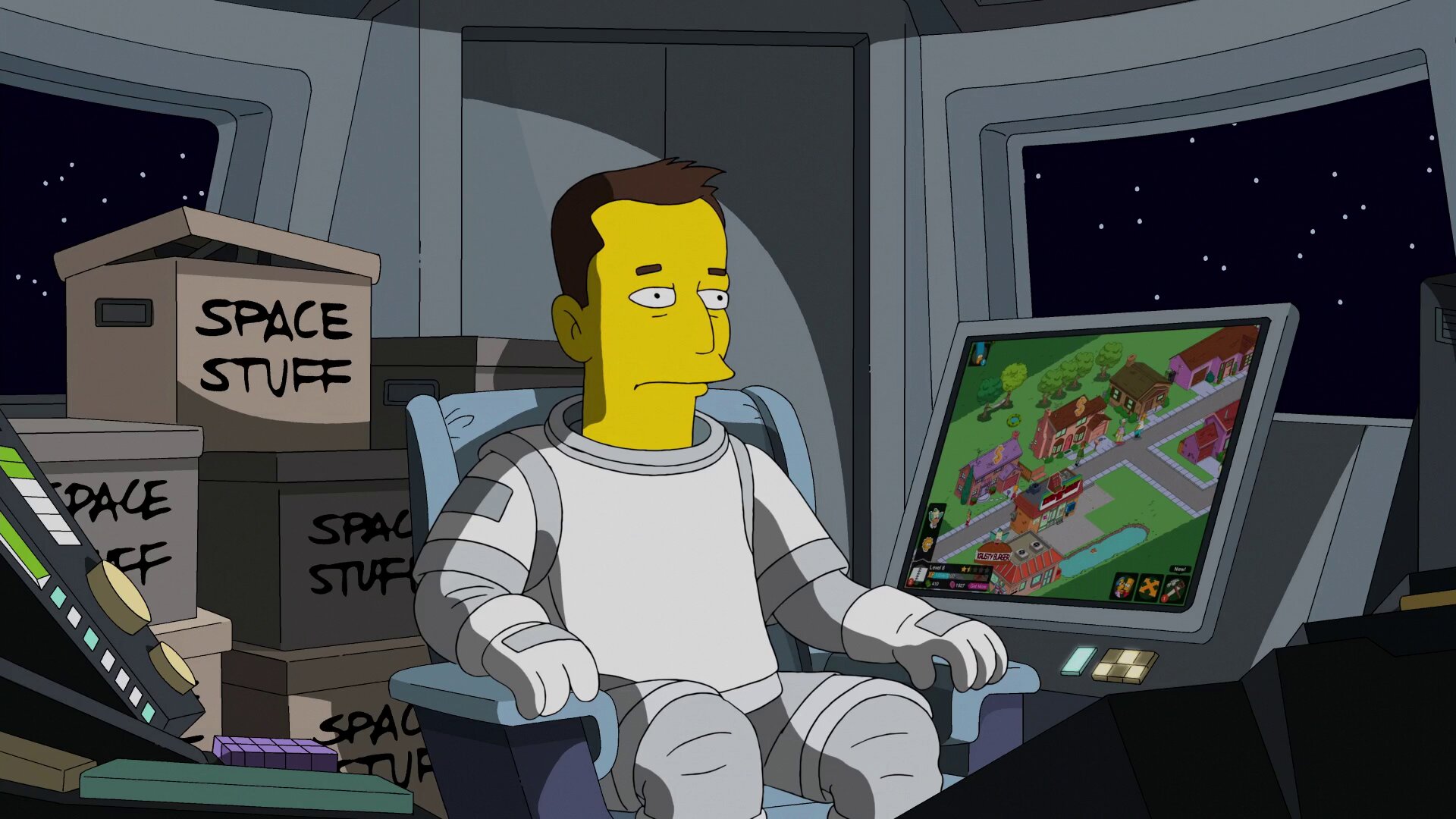 The Musk Who Fell to Earth 26x12
26.01.2015
When inventor Elon Musk lands in Springfield, he and Homer become fast friends and revolutionize the town's nuclear plant. But when Musk goes overboard and Mr. Burns wants him removed, Homer must figure out a way to break up with him.
Bart's New Friend 26x11
12.01.2015
Bart has a new accomplice and best friend when Homer is hypnotized at the circus and believes he is a young boy again.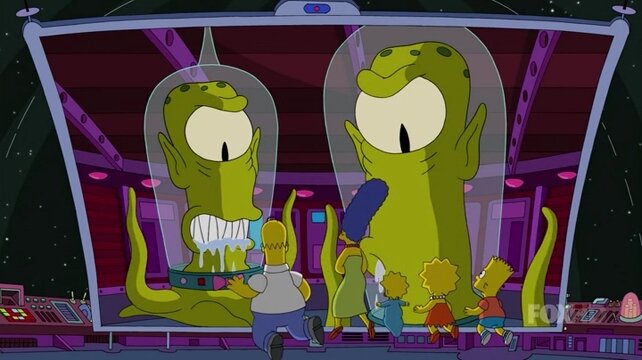 The Man Who Came to Be Dinner 26x10
05.01.2015
During a trip to "Dizzneeland" the Simpsons board the wrong ride, Rocket To Your Doom, and are transported through the galaxy to Kang and Kodos' home planet, where they are held captive at the local zoo and the inhabitants decide to eat Homer.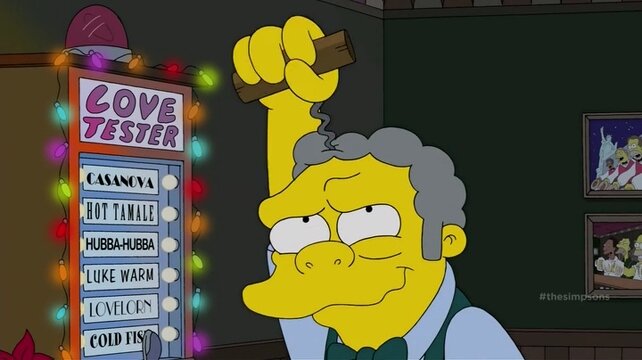 I Won't Be Home for Christmas 26x09
08.12.2014
It looks like Homer won't be home for Christmas after he stays too long at Moe's Tavern on Christmas Eve and an irate Marge tells him not to return to their house, so he's left to wander alone around Springfield and lament the effects of Christmas spirits. Blackboard 'Reindeer meat does not taste like chicken'.
Covercraft 26x08
24.11.2014
Homer has a mid-life crisis, takes up bass guitar and forms a cover band with some of the other dads in town. But the band's modest early success is soon overwhelmed by the breakout potential of their most unlikely star, Apu.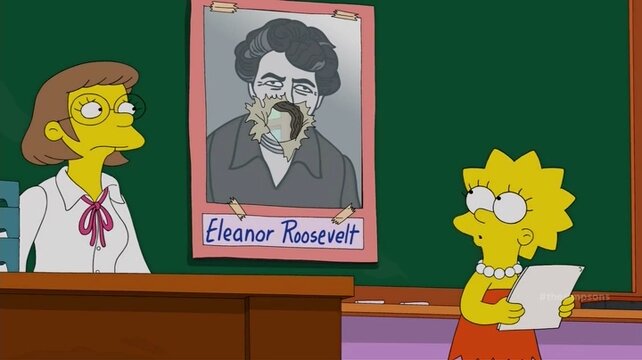 Blazed and Confused 26x07
17.11.2014
Bart faces a tough test at school when he gets a new teacher, Mr. Lassen, who vows to crush his spirit.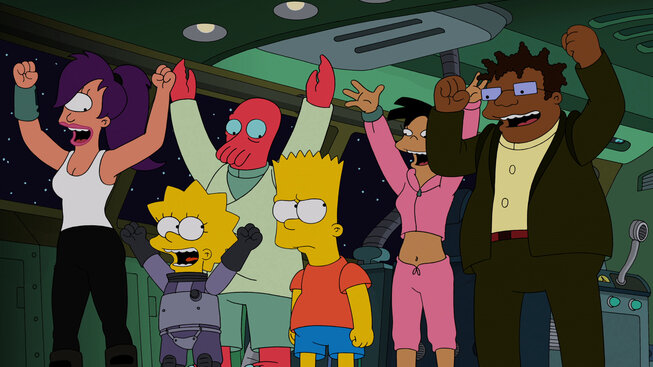 Simpsorama 26x06
10.11.2014
In a special crossover episode, "Futurama's" Planet Express crew comes to present-day Springfield to prevent the Simpsons from destroying the future.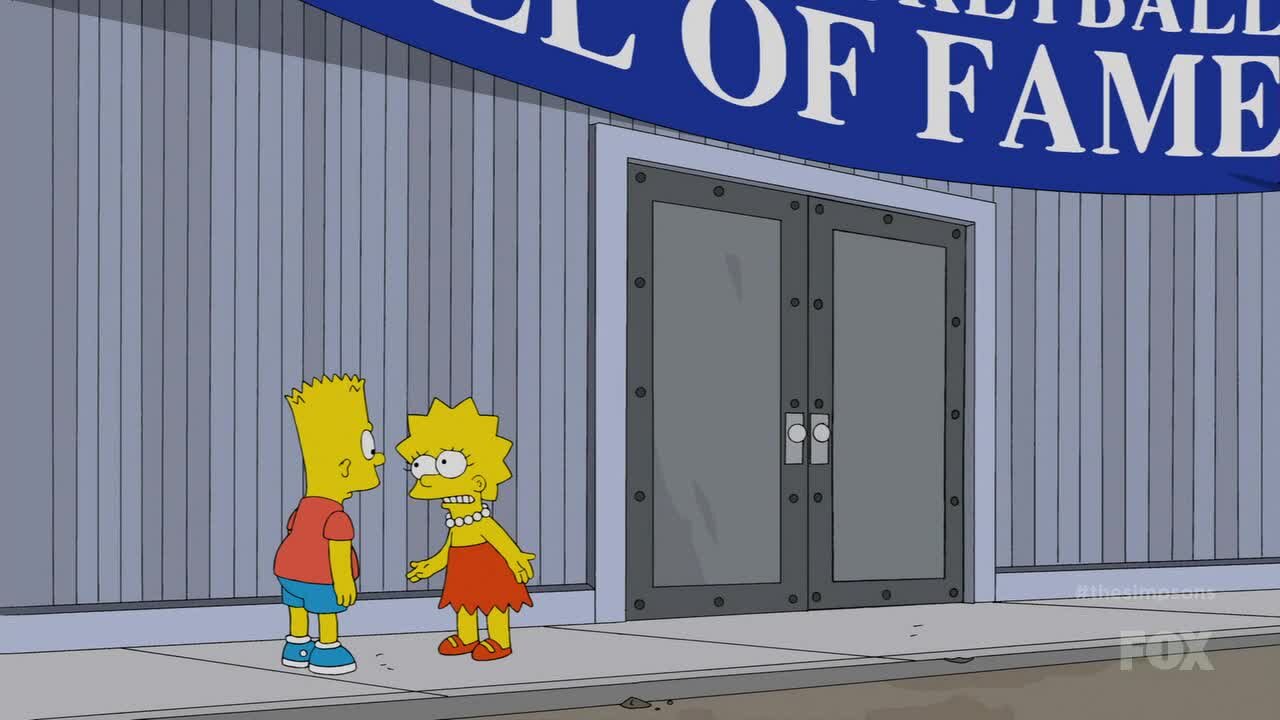 Opposites A-frack 26x05
03.11.2014
Lisa brings in Assemblywoman Maxine Lombard to put a stop to Mr. Burns' fracking operation, but is taken aback when the two political opponents find themselves attracted to one another.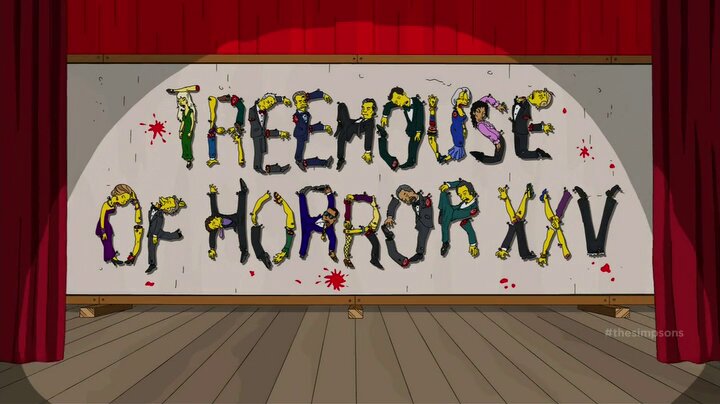 Treehouse of Horror XXV 26x04
20.10.2014
"Treehouse of Horror XXV" is the 25th installment in the Treehouse of Horror series.-In this Halloween special, Bart and Lisa go to hell and become demons. (This short is titled school in hell.)-Moe's "Clockwork Orange"-style gang is disrupted when Dum (Homer) falls in love with a girl (Marge). -And, in a parody of The Others, the Simpsons are haunted by a family of ghosts, which turn out the be the family from the shorts, who were murdered and buried in the house.
Super Franchise Me 26x03
13.10.2014
Marge opens a sandwich franchise store after her sandwiches become a huge hit at Springfield Elementary. But running day-to-day at the store proves challenging, especially when the same franchise opens another location across the street.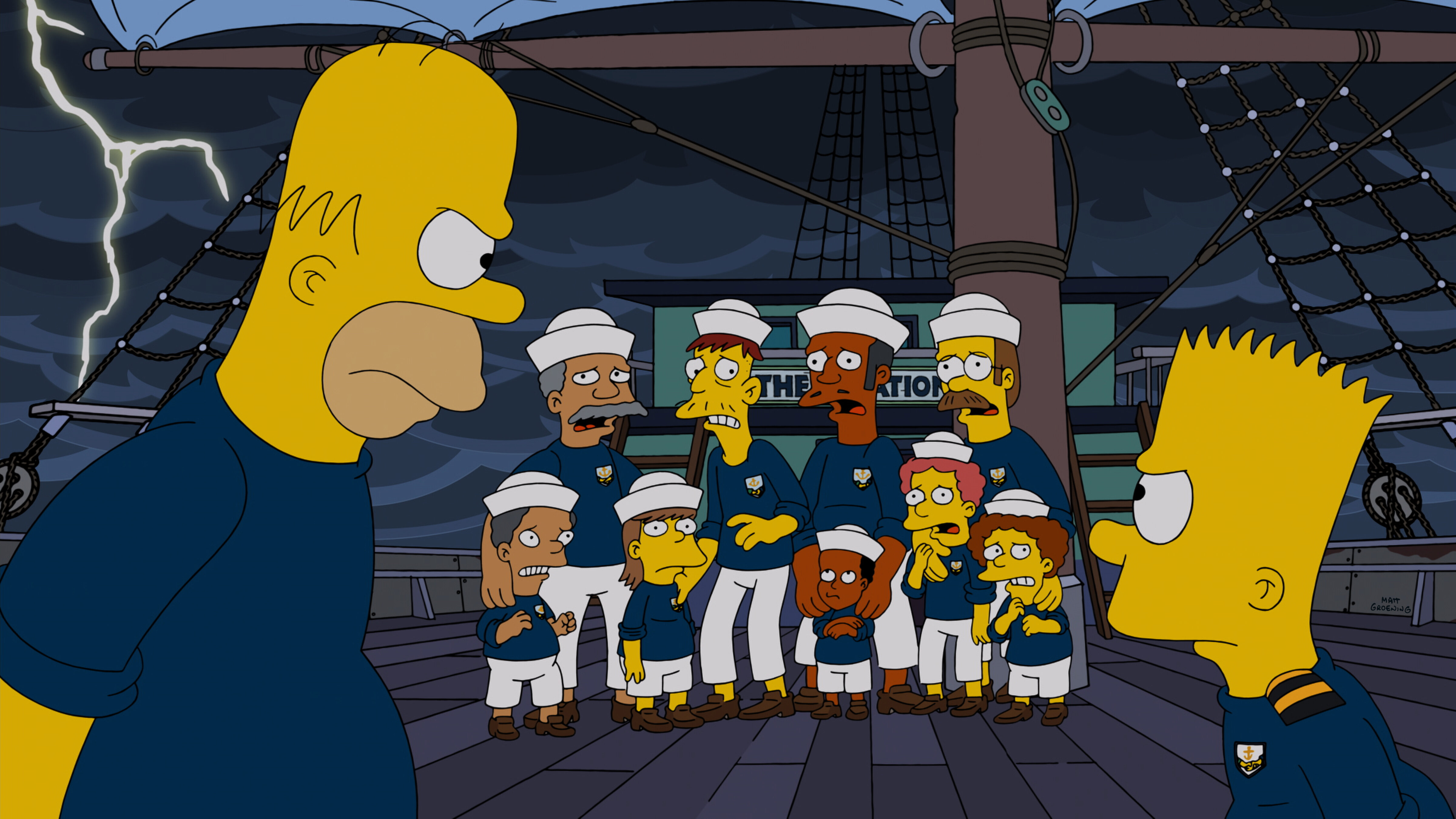 The Wreck of the Relationship 26x02
06.10.2014
When Bart disrespects Homer's authority, Homer makes a point to try his hand at parenting. This proves fruitless, so Marge signs them up for the Relation Ship, where they'll resolve their conflicts at sea. Meanwhile, Marge is in charge of Homer's fantasy football league, but manages to win despite being the underdog.
Clown in the Dumps 26x01
29.09.2014
In the milestone 26th season opener of THE SIMPSONS, the unthinkable happens: a Springfield resident dies. Also, Krusty retires after he's offended by a comedy cable channel roast of him, and Lisa tries to protect Homer from getting hurt.