The Simpsons is the longest running scripted show in US television history. It captures the adventures of Homer, Marge, Maggie, Bart and Lisa who are living in a fictional town called Springfield.
Add to my shows
Next episode
A Made Maggie 33x10
20.12.2021
Fat Tony becomes Godfather to Maggie Simpson.
season 24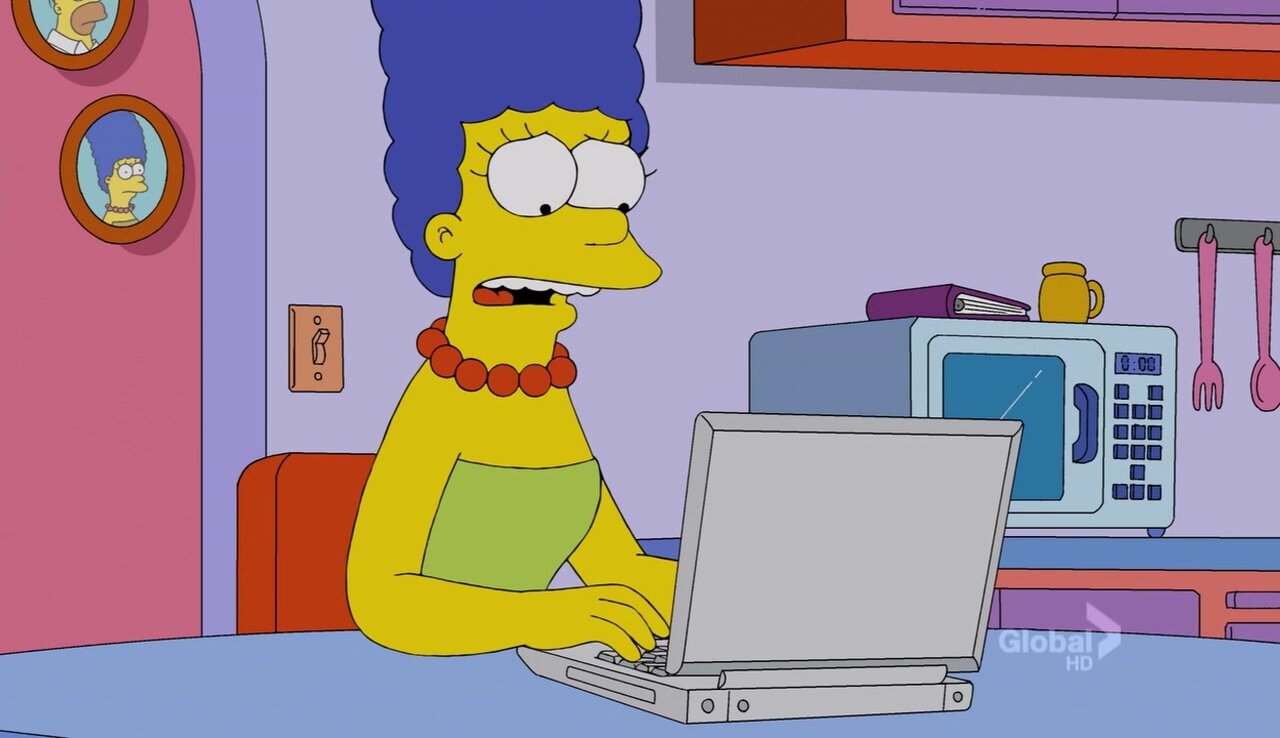 Dangers on a Train 24x22
20.05.2013
Marge unwittingly gets involved with a Web site for married people seeking affairs, and meets a charming man (voice of Seth MacFarlane) who takes quite an interest in her.
The Saga of Carl 24x21
20.05.2013
Homer, Moe, Lenny and Carl win $200,000 in the Springfield Lottery. But when Carl takes off to Iceland - his homeland - with all the winnings, the guys embark on a Nordic adventure to get the cash back. Then, Marge mistakes a swinging Ashley Madison-type website for a Dolly Madison-type cupcake site, not realizing it's a destination for married people seeking liaisons. On the site, she meets the charming "Ben", who pursues her after they learn they share a love for a "Downton Abbey"-type TV series.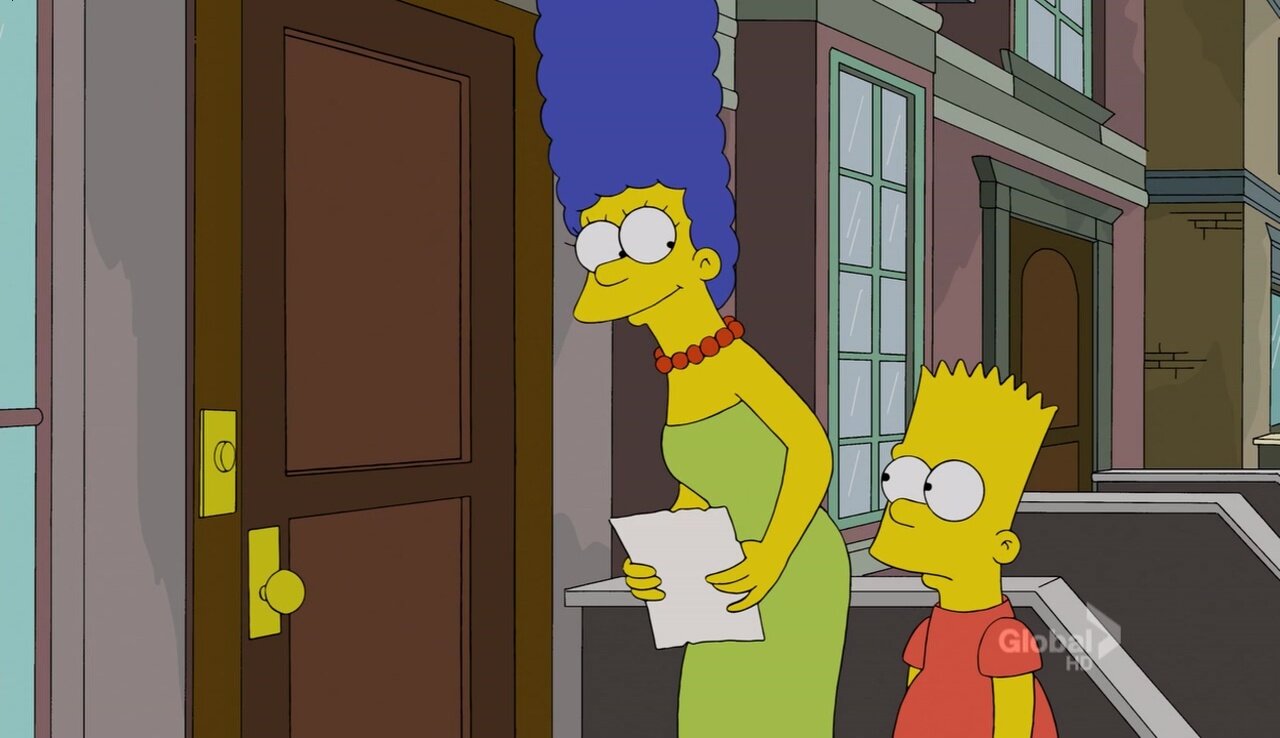 The Fabulous Faker Boy 24x20
13.05.2013
Marge encourages Bart to explore his creative side, and his initial reticence quickly subsides when Marge hires Slava's beautiful daughter, Zhenya, as his new piano instructor. Meanwhile, Homer is shocked when he loses the last two remaining hairs on his head, and employs a wide variety of headgear to try and keep his newfound baldness a secret from Marge.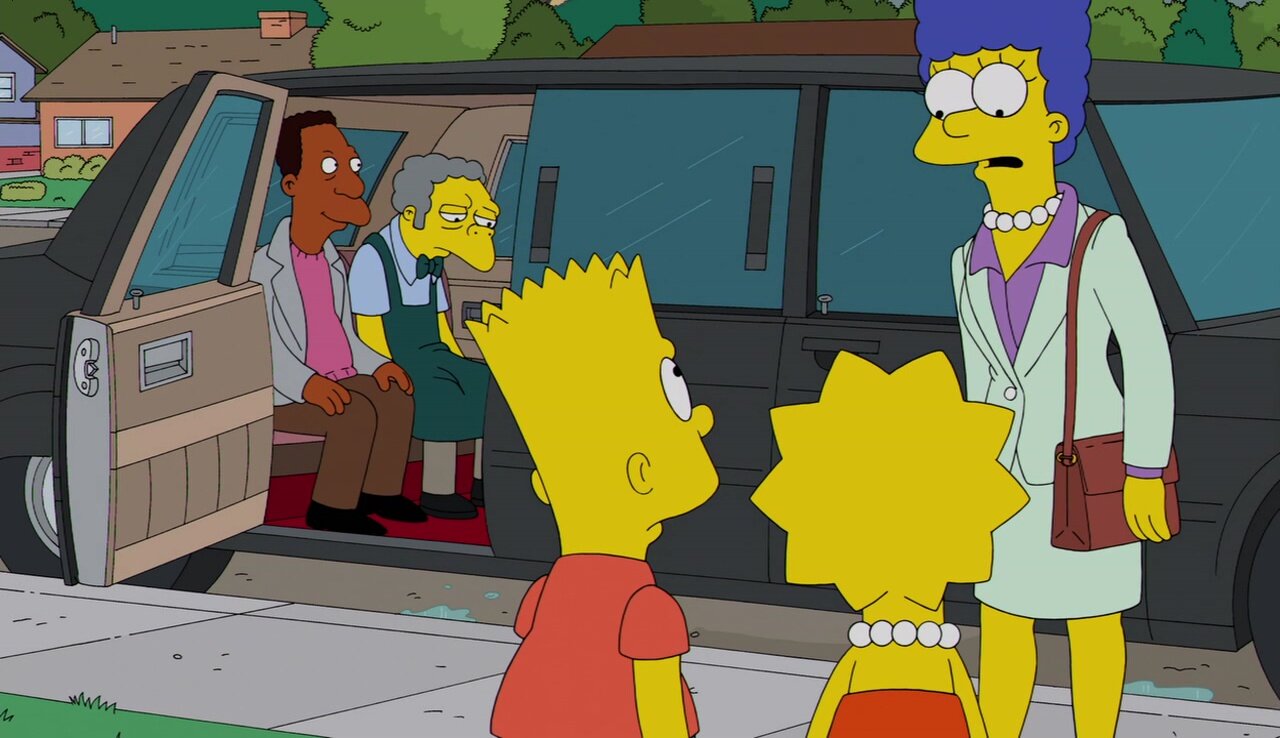 Whiskey Business 24x19
06.05.2013
Moe finds a new lease on life when rich venture capitalists take an interest in his homemade whiskey. Then, Grampa injures himself while babysitting Bart, and quickly discovers he prefers being cared for by his grandson than the staff at the nursing home. Also, Lisa takes exception to a "Tupac-at-Coachella"-style hologram of jazz legend Bleeding Gums Murphy and Sonny Rollins appears to ask her not to boycott the record label.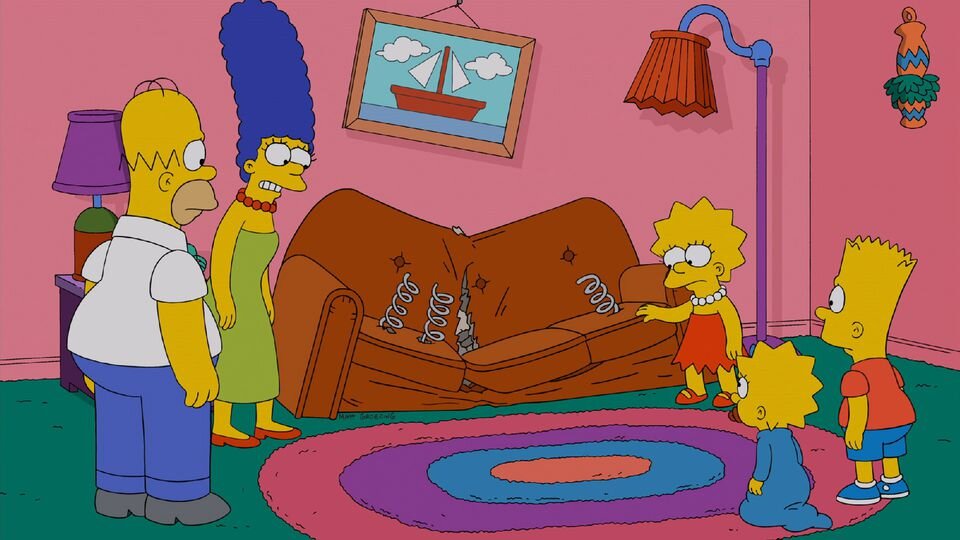 Pulpit Friction 24x18
29.04.2013
Homer is recruited to be a church deacon by the trendy new reverend in town. But Bart asks Flanders to help him track down their former pastor, Reverend Lovejoy, when Homer starts to embrace the faith a little too seriously. Meanwhile, Marge finds out her dry cleaners mistakenly swapped her wedding dress with one of Krusty's costumes.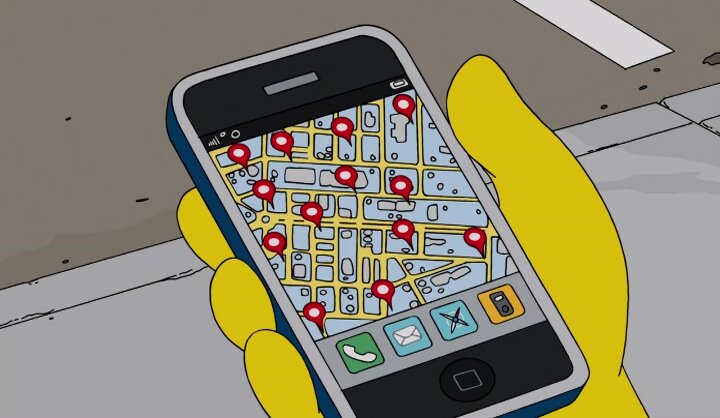 What Animated Women Want 24x17
15.04.2013
Once again, Homer must save his marriage when Marge gets fed up with his behavior. Meanwhile, after watching "A Streetcar Named Desire," Milhouse takes on a Marlon Brando-inspired bad-boy persona to attract Lisa.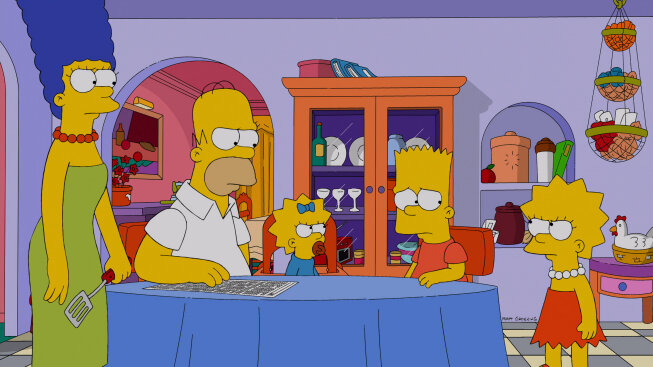 Dark Knight Court 24x16
18.03.2013
Bart is falsely accused of pulling a prank on Easter involving the school marching band and stuffing rotten eggs in the brass section's horns, and Lisa must step in as his attorney to defend her brother. Meanwhile, Mr. Burns attempts to fulfill his lifelong dream of becoming a superhero, Fruit Bat Man,.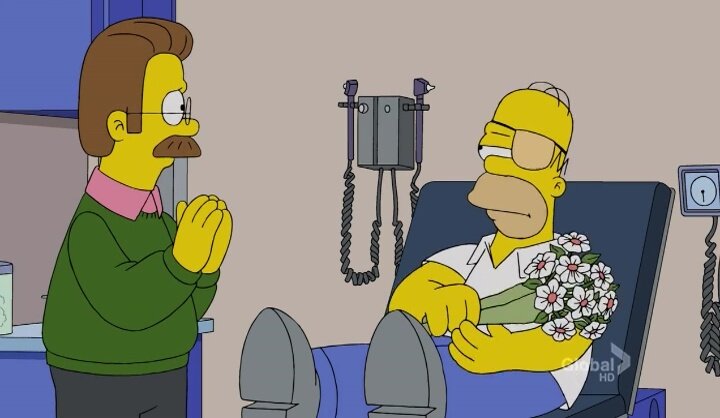 Black-eyed, Please 24x15
11.03.2013
Flanders becomes jealous when his laid-back parents start to prefer Homer's company over his and he faces unbearable guilt after punching Homer in the eye, as he desperately tries to reconcile with him. Meanwhile, Lisa is distressed by her new substitute teacher, who bullies her for no apparent reason. Blackboard: 'Sorry I broke the blackboard'.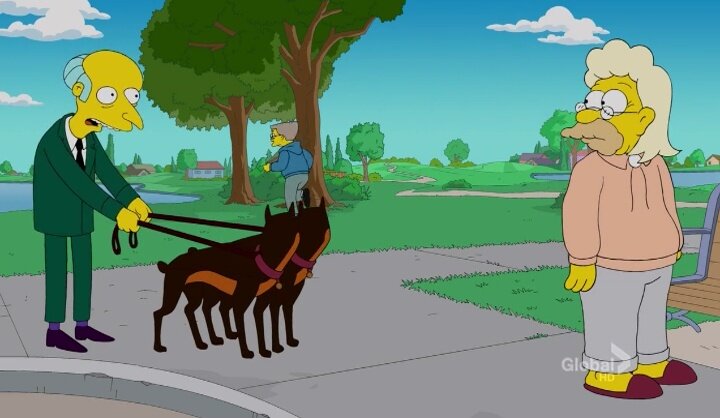 Gorgeous Grampa 24x14
04.03.2013
Homer's obsession with the TV show "Storage Battles" leads the family to discover Grampa's past identity as "Gorgeous Godfrey," the most feared, villainous man in pro-wrestling history. What's more, he was once revered by a young Montgomery Burns who now convinces Grampa to get back in the ring. But when Bart starts to adopt some of his grandfather's former cheating ways, Grampa must reconcile with his past before it's too late.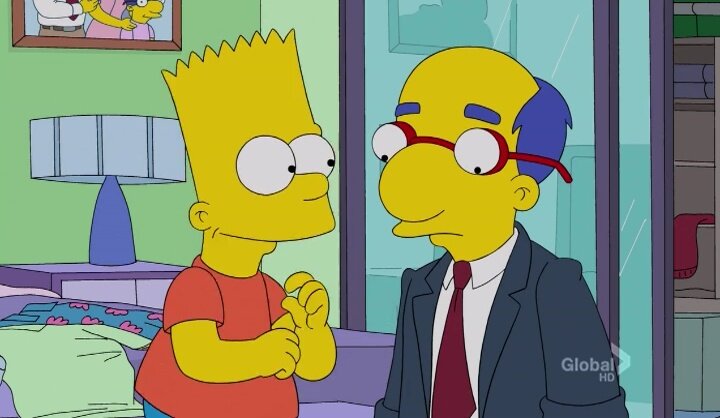 Hardly Kirk-Ing 24x13
18.02.2013
Bart and Milhouse explore the perks of being an adult when a shaving experiment leaves Milhouse looking exactly like his father, Kirk. Also, Marge desperately tries to save Maggie from the dangers of children's television.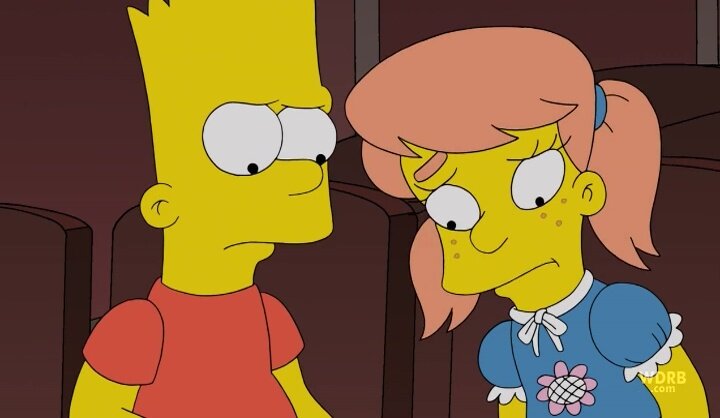 Love is a Many-Splintered Thing 24x12
11.02.2013
Bart's heart strings are pulled once again when Mary Spuckler returns to Springfield. But his failure to pay her enough attention strains their relationship. Marge, too, puts Homer in the dog house.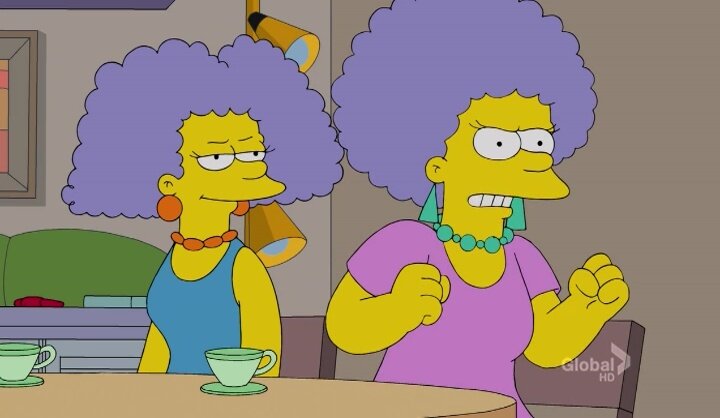 The Changing of the Guardian 24x11
28.01.2013
After surviving a tornado, Marge and Homer seek out guardians for the kids, in case the worst should happen. They first turn to friends and family, including Homer's half-brother, Herb Powell with whom to entrust their kids, but when Bart and Lisa fall in love with a super-cool couple, Mav and Portia, Marge starts to question their potential guardians' true motivations.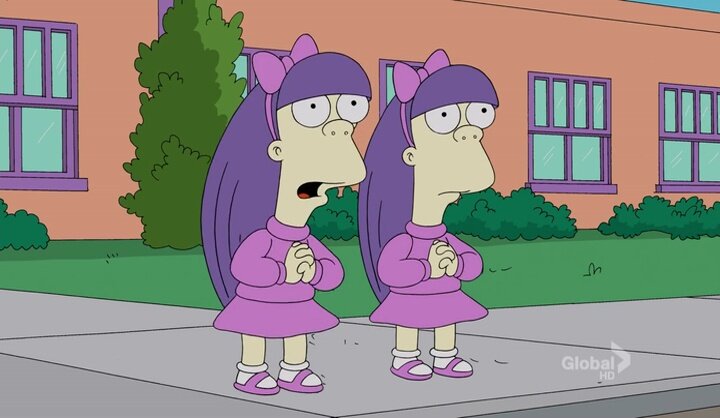 A Test Before Trying 24x10
14.01.2013
When Springfield Elementary is threatened with closure because of low standardized test scores, the fate of the school rests on one student who missed the test, and who must raise the average above the minimum threshold: Bart Simpson. Meanwhile, Homer finds a parking meter at a local dump, and starts deploying it around Springfield to fleece unwitting parkers of their quarters. Blackboard: 'I will obey oscar campaign rules from now on'.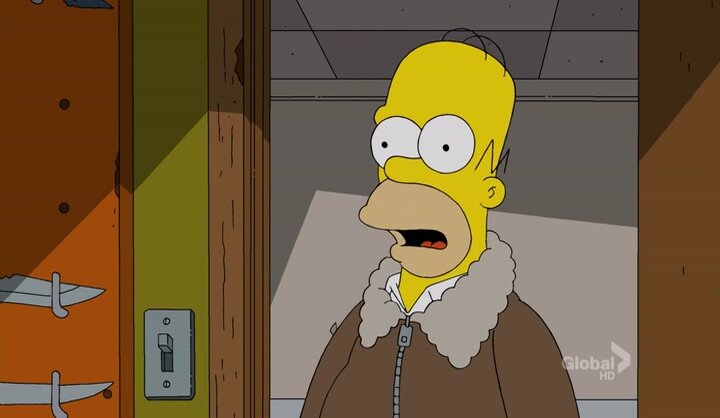 Homer Goes to Prep School 24x09
07.01.2013
Homer joins the "Springfield Preppers," an off-the-grid survivalist group whose leader has set up a top-secret retreat outside of town to prepare for the end of the world. But Marge grows skeptical of the group's alarmist shenanigans.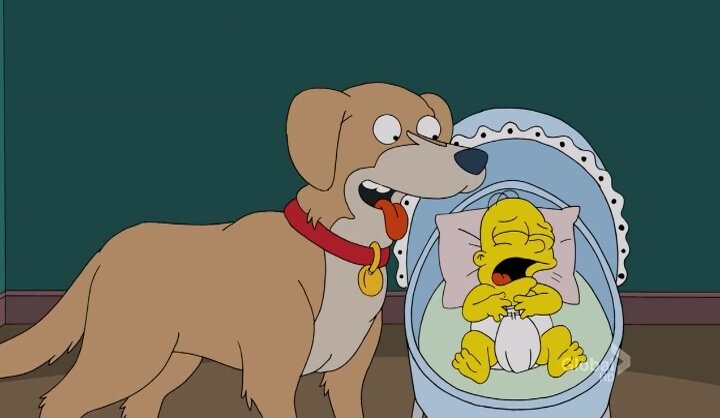 To Cur with Love 24x08
17.12.2012
When a fire at the retirement home forces Grampa to move back in with the Simpsons, Homer throws out his back on moving day. While "resting" at home, he gets hooked on the super-addictive tablet game, "Villageville." And, in his distraction, he loses the family dog, Santa's Little Helper. Everyone is angry with Homer for not seeming to care about the missing dog, but Grampa tells them the story of Homer's long-lost childhood pup, Bongo,.
The Day the Earth Stood Cool 24x07
10.12.2012
Homer wants a younger, hipper image. So he starts hanging out with Terrence and Emily, his cool new neighbors from Portland, OR. But Marge finds their trendy parenting methods extreme and Bart quickly realizes their son, T-Rex, is super-pretentious.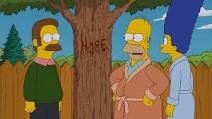 A Tree Grows in Springfield 24x06
26.11.2012
Lisa tries to cheer up a down-in-the-dumps Homer by winning him a "MyPad" at the school auction. But he falls back into a funk when he breaks the magical tablet device - until Ned Flanders discovers a miracle tree in the Simpsons' backyard with bark that spells the word "HOPE".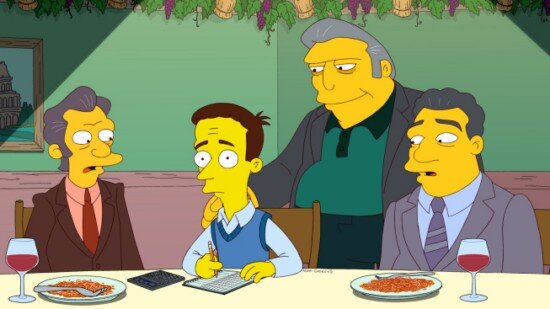 Penny-Wiseguys 24x05
19.11.2012
Homer is shocked to discover that his bowling teammate Dan Gillick, is an accountant for Fat Tony and his mob. When the government finally catches up with Fat Tony and he is forced to serve time on a jury, he names Dan as his temporary replacement. Meanwhile, Lisa adds insects to her vegetarian diet after passing out during a saxophone solo, but starts questioning her decision when bugs start pleading for mercy in her dreams. Blackboard ' I want to secede but don't know which state I'm in'.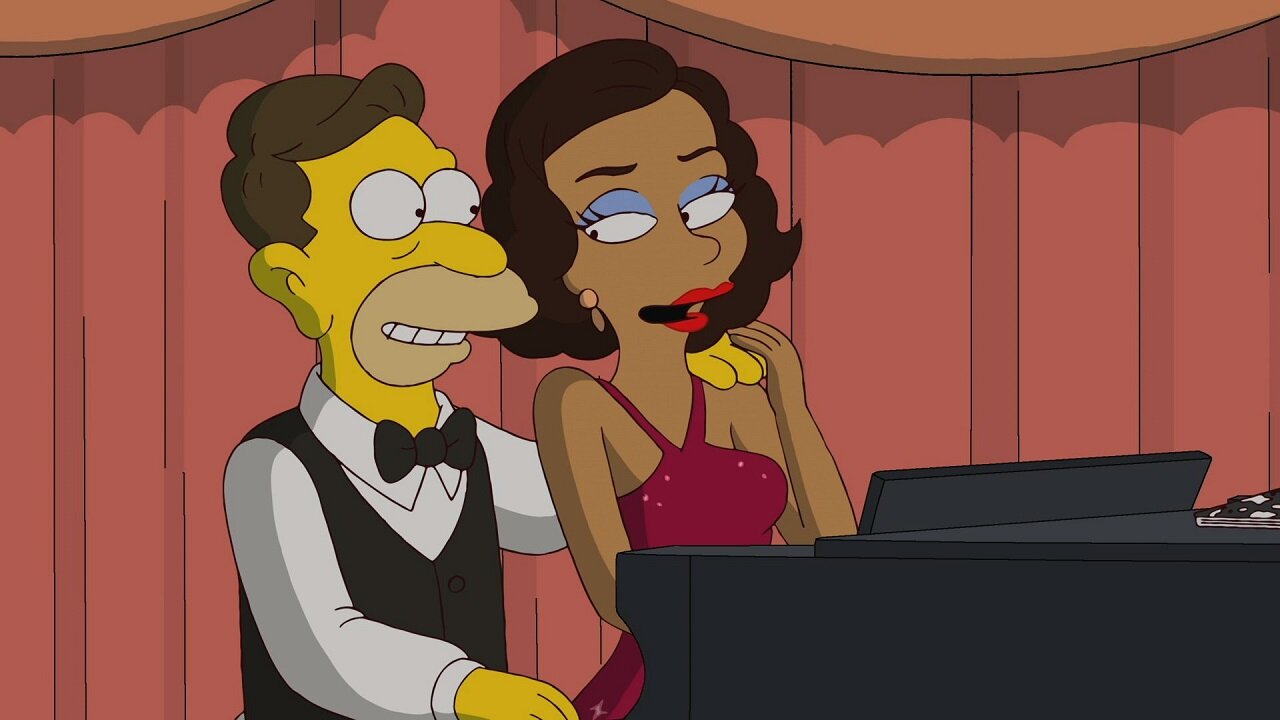 Gone Abie Gone 24x04
12.11.2012
Grampa escapes from his retirement home, and when Homer and Marge frantically try to track him down, they follow clues that reveal secrets in Grampa's past. They find that he worked at a local restaurant with Marvin Hamlish and met and fell in love with the restaurant's singer Rita LaFleur. Meanwhile Lisa tries her hand at online poker, getting tips from the experts, including Jennifer Tilly but is soon gambling with her college fund.
Adventures in Baby-Getting 24x03
05.11.2012
When Marge's car falls into a sink hole, she buys the perfect replacement to fit her family of five. But she quickly grows to hate it because, as she tells a shocked Homer, the car would be too small if she wanted to have another baby. Meanwhile Bart and his friends are determined to find out what secret Lisa is keeping when Bart finds her cryptic messages and follows her sneaking off downtown for covert meetings after school.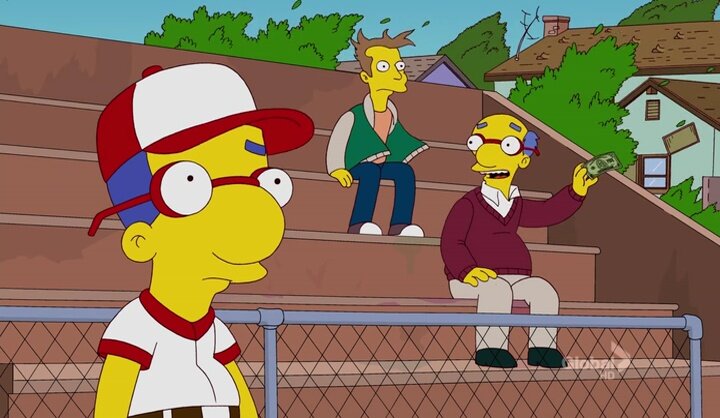 Treehouse of Horror XXIII 24x02
08.10.2012
Destined to be yet another classic Halloween-themed episode of THE SIMPSONS, in the opener of the 23rd annual "Treehouse of Horror," we go back to ancient times when a Mayan Homer and Marge are witnesses to the prediction by ancient calendar makers that 2012 will be the end of the world. In "The Greatest Story Ever Holed," the first of three spine-chilling stories, the Springfield Subatomic Supercollider creates a black hole that terrorizes the city, sucking up everything in its path. Then, in "UNnormal Activity" the Simpsons install cameras all over the house when things start to go bump in the night and Marge discovers it may have to do with an unholy pact she made some years prior. In the final thrilling tale, "Bart & Homer's Excellent Adventure," Bart travels to 1974 to buy a comic book at cover price but inadvertently disrupts Homer and Marge's courtship, leading Marge to end up with Artie Ziff .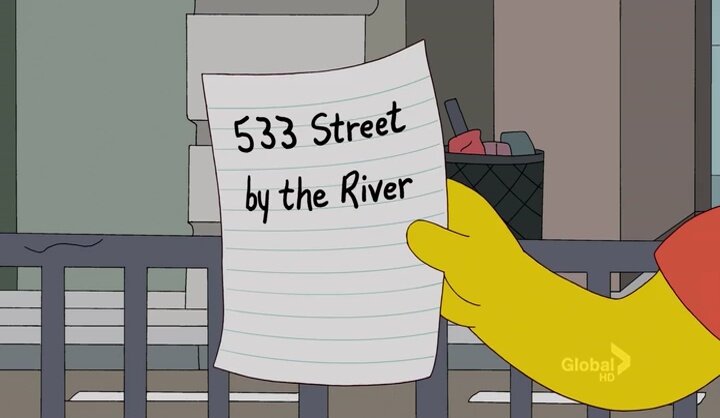 Moonshine River 24x01
01.10.2012
America's favorite Midwestern family travels to New York City in search of Bart's long-lost love Mary Spuckler who he wants to reconnect with since she has left Springfield and her hillbilly family there to reinvent herself in the big apple. Lisa and Marge look forward to experiencing all the city has to offer but when they realize their budget won't allow a Broadway play they settle for the free "Shakespeare In the Park" which doesn't go as planned.