The Simpsons is the longest running scripted show in US television history. It captures the adventures of Homer, Marge, Maggie, Bart and Lisa who are living in a fictional town called Springfield.
Add to my shows
Next episode
A Made Maggie 33x10
20.12.2021
Fat Tony becomes Godfather to Maggie Simpson.
season 19
All About Lisa 19x20
19.05.2008
As Krusty's new assistant, Lisa steals the spotlight and gets her own television show, leaving Krusty behind. But when she's honored as Entertainer of the Year at the Springfield Media Awards, she realizes that the she may not be cut out for showbiz after all. Meanwhile, Bart and Homer spend some time bonding through their newfound love of coin-collecting.
Mona Leaves-a 19x19
12.05.2008
When Homer's mother Mona (guest voice Glenn Close) unexpectedly passes away, Homer is filled with guilt for not telling her how much he loved her before she died. To make it up to her, Homer decides to fulfill her final wishes by throwing her ashes over Lake Wastershare at Springfield Monument Park.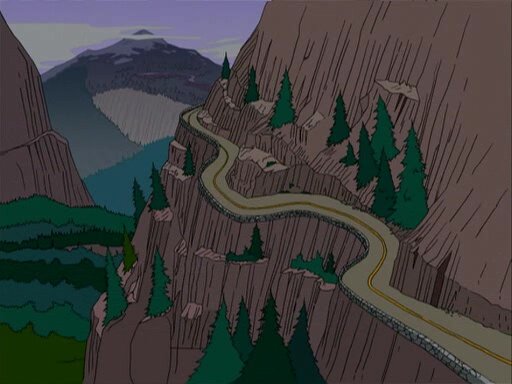 Any Given Sundance 19x18
05.05.2008
Lisa makes a documentary about her family for a school project. After the success of her project, Principal Skinner and Superintendent Chalmers encourage her to enter the film into the Sundance Film Festival. But when Lisa's film premieres at Sundance, Homer, Marge and Bart are embarrassed by the candid behind-the-scenes look at their lives.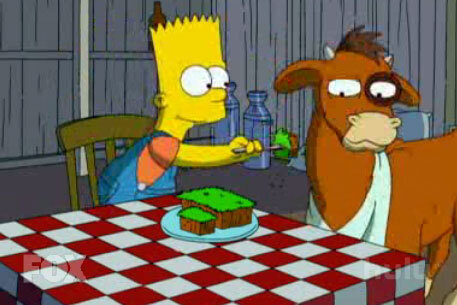 Apocalypse Cow 19x17
28.04.2008
When Bart joins the 4-H Club, he unexpectedly falls in love with a cow named Lou. But when Bart finds out that Lou has been sold to a slaughterhouse, he becomes determined to save him. Bart and Lisa free Lou from the slaughterhouse, and Bart gives the cow to Mary, a fellow 4-H Club member. However, Mary's father mistakenly believes Bart is giving them the cow as a dowry for Mary's hand in marriage. When Homer and Marge hear of Bart's engagement, they devise a plan to save Lou and free Bart from his marriage.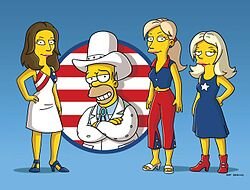 Papa Don't Leech 19x16
14.04.2008
When Mayor Quimby realizes the city of Springfield has gone broke, Homer suggests they feign a natural disaster in order to obtain relief funds from the federal government. When the plan goes awry, Lisa goes through the town's financial records only to discover millions in uncollected city taxes. Springfield hits up its most notorious tax evaders, and Lurleen Lumpkin, a country music star Homer once managed, remains the last outstanding debtor. As Springfieldians scour the city to find her, Marge reluctantly permits the fugitive to stay with the family, creating a very interesting dynamic in the Simpson household.
Smoke on the Daughter 19x15
31.03.2008
When Lisa convinces Marge to pursue her childhood dream of becoming a ballerina by auditioning for the Chazz Busby Ballet Academy, Chazz discovers Lisa's natural talent and enrolls her in the academy instead. During a break from practice, Lisa inhales her fellow ballerinas' cigarette smoke and attributes her improvement in ballet to smoking. Lisa soon becomes addicted to secondhand smoke, with no chance of quitting in sight. Meanwhile, Homer shows Bart his secret room where he manufactures beef jerky. When Homer realizes that a family of raccoons have made off with his beef, he decides to confront the animals.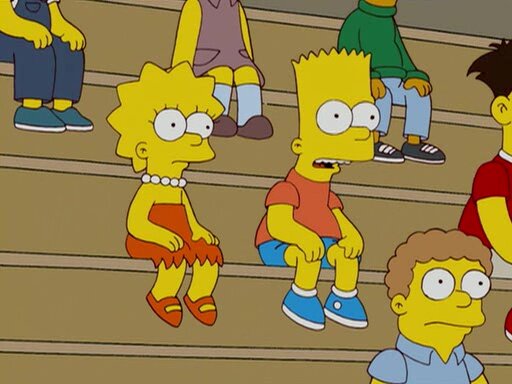 Dial 'N' for Nerder 19x14
10.03.2008
Marge hires a nutritionist who puts Homer on a strict diet, but Homer decides to sneak in snacks and meals on the side. Marge becomes suspicious of Homer's weight gain and calls the producers of "The Sneakers," a take-off on "Cheaters." Meanwhile, Bart and Lisa go bike-riding in Springfield National Park, where they run into Martin Prince and play a prank on him. Bart and Lisa are wracked with guilt when their prank goes terribly wrong they think they're responsible for the accidental death of Martin Prince.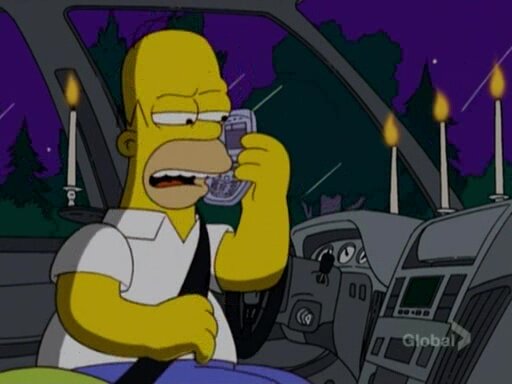 The Debarted 19x13
03.03.2008
When a new, tough-looking kid at school named Donny teams up with Bart to help him carry out his pranks, Bart thinks he has found his ultimate partner in crime. However, when Bart's seemingly foolproof pranks begin to backfire, Groundskeeper Willie warns Bart that he smells a rat in Bart's group of friends. With Principal Skinner on his case and the possibility of expulsion on the horizon, Bart must figure out who he can trust and who he must get rid of before it is too late. Meanwhile, Homer receives a fancy loaner car after Marge damages their old car in an accident, and he grows extremely attached to his new set of luxury wheels.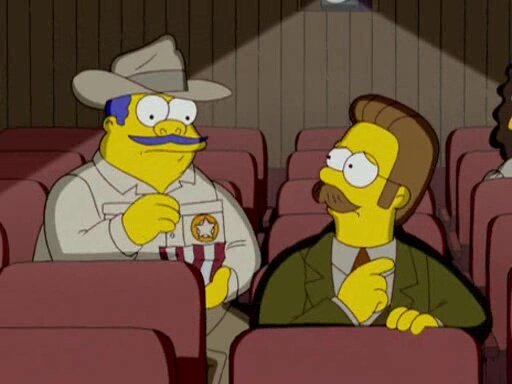 Love, Springfieldian Style 19x12
18.02.2008
To celebrate Valentine's Day, Homer takes Marge to the Tunnel of Love at a carnival. But when Bart pulls a prank involving some Jell-O, they become hopelessly stranded. Homer tries to cheer Marge up by recounting some of the greatest love stories of all time, beginning with Bonnie and Clyde (as Marge and Homer) who steal each others' hearts as they rob their town dry. Next, Marge tells the story of two dogs, Sadie (Marge) and Scamp (Homer), in her take on "Lady and the Tramp." Lastly, Bart spins the final romantic tale in his recounting of the rock-and-roll romance of the The Sex Pistols when Nancy Spungeon (Lisa) falls for the rebellious Sid Vicious (Nelson).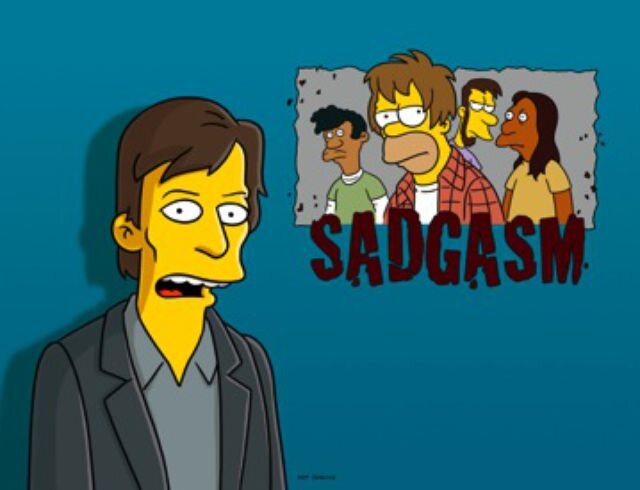 That 90's Show 19x11
28.01.2008
When Bart and Lisa discover Marge's diploma from Springfield University, Marge reveals that she had attended the university back when she and Homer had first started dating. In a flash back, Homer gives up his dreams of becoming a musician and takes a job at his father's laser tag warehouse to support Marge attending Springfield University. However, when Marge finds herself attracted to an offbeat professor named Professor August, Homer decides he has had enough of Marge's wandering eye. Homer instead focuses his emotions on his music, inventing a new sound called "grunge." As Marge continues to date the pretentious professor, Homer becomes the hottest grunge artist around, as evidenced by Weird Al's parody of his music. But when Marge sees a special news report on MTV with Kurt Loder announcing that Homer's band, Sadgasm, has broken up and that Homer is holed-up in a mansion hopelessly addicted to drugs, Marge must choose between her new life and her old love.
E Pluribus Wiggum 19x10
07.01.2008
When Homer disposes of a leaky battery along with his fast food containers, he causes an explosion that destroys Springfield's fast-food district. Mayor Quimby proposes to rebuild the district during the next election. The next election, however, isn't until June, so Quimby decides to move it to the upcoming Saturday. This change makes Springfield the first city in the nation to hold a presidential primary. Excitement builds as reporters from around the country descend upon Springfield to cover the debate. The news is dismal though as the candidates turn out to be less than compelling. On the night of the primary, Kent Brockman announces an unexpected turn of events: Springfield voters rejected all the leading candidates and embraced a write-in: Ralph Wiggum. Much to Lisa's chagrin, the leaders of both parties realize that embracing Ralph as a candidate means certain victory come November. Although no one knows for sure which political party Ralph is representing, he insists that everyone is invited to his party.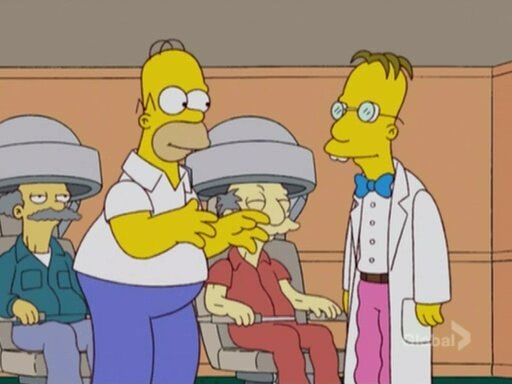 Eternal Moonshine of the Simpson Mind 19x09
17.12.2007
Homer wakes up one morning only to find himself outdoors and covered with snow. With no recollection of what happened the night before, aside from a lingering hangover, Homer makes his way home only to find his entire family missing. Hopelessly confused, Homer makes his way to Moe's bar, where Moe reveals that Homer drank a "Forget-Me-Shot" the night before - a drink is so potent, it wipes out a the last 24 hours of one's memory. When Wiggum informs Homer of a domestic disturbance at his house the night before, Homer begins to worry that he may have done something awful. As he probes his cloudy memory to unravel the mystery, Homer turns to Professor Frink, who hooks him up to a device that allows him to explore his memories, and he interacts with his Memory Family to piece together the night's events.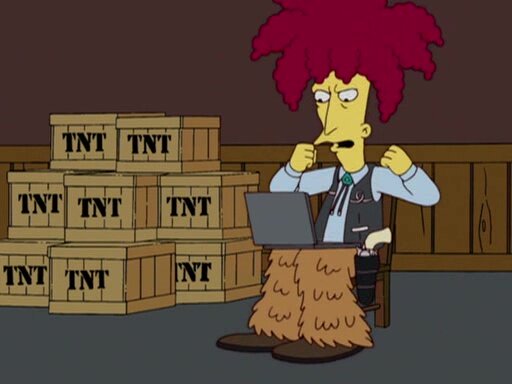 Funeral for a Fiend 19x08
26.11.2007
Kelsey Grammer returns to guest-voice as the infamous Sideshow Bob, David Hyde Pierce as Sideshow Bob's dubious brother Cecil Terwilliger, and John Mahoney as their father, Mr. Terwilliger. Marge dreams that Keith Olbermann (guest-voicing as himself) chides her for fast-forwarding through television commercials. Marge tries her to make restitution by watching hours of advertisements, and she and the Simpson family take particular interest in an ad for Wes Doobner's World-Famous Family-Style Rib Huts. They drive to the restaurant, only to find Sideshow Bob waiting for them, triumphant in his elaborate hoax to lure them to their doom. When Sideshow Bob's attempt to terminate the family is foiled, he is put on trial, where his father blames Sideshow Bob's psychosis on Bart. During the proceedings, Bart accidentally kills his old nemesis, and Bob's brother Cecil invites Bart to attend the memorial service for Sideshow Bob to bury the hatchet for good.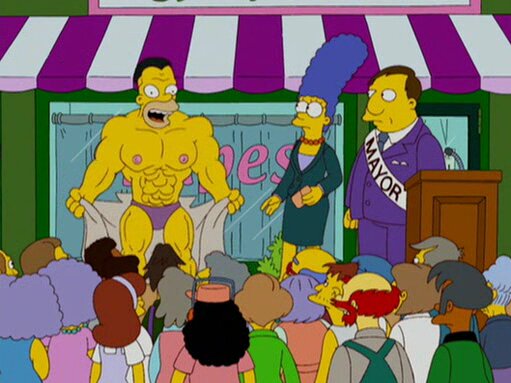 Husbands and Knives 19x07
19.11.2007
Much to the Comic Book Guy's chagrin, Bart, Lisa and Milhouse check out a new comic book store called Coolsville, where they are treated like royalty by a friendly comic book buff named Milo (guest voice Jack Black). Coolsville attracts some real-life comic book creators, such as Alan Moore, Art Spiegelman and Dan Clowes (guest-voicing as themselves), and the Comic Book Guy wages war on Coolsville in an attempt to win back his customers. Meanwhile, Marge decides her middle-aged physique could use some help, and she launches a gym for "regular women." Marge's gym becomes wildly successful and as her fame grows, Homer fears she will dump him for a younger, more fit guy. Homer decides to take matters into his own hands to get into shape.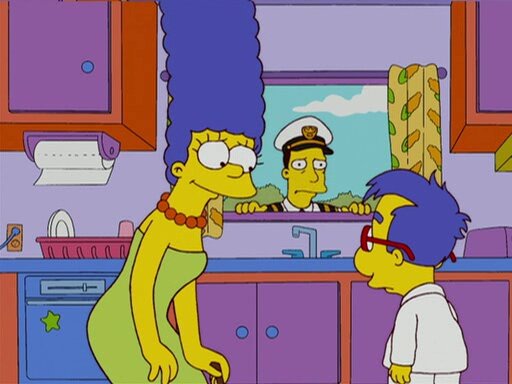 Little Orphan Millie 19x06
12.11.2007
When Milhouse's parents are lost at sea and presumed dead, Milhouse decides it's time to begin acting like a real man, and his new attitude makes him more attractive and popular than ever. Bart can't stand that Milhouse has become cooler than him, and he devises a plan to win back his cooler-than-Milhouse status. Meanwhile, Homer finds himself in hot water when he can't remember the color of Marge's eyes, and Marge vows not to let Homer see her eyes again until he remembers their color.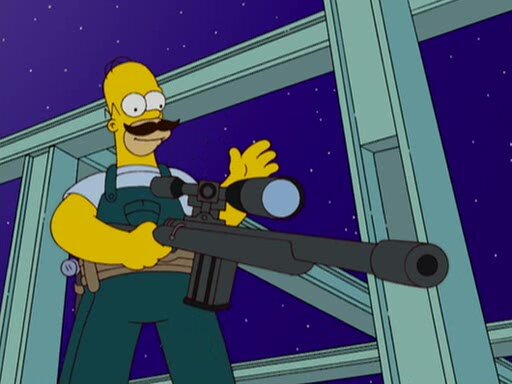 Treehouse of Horror XVIII 19x05
05.11.2007
The frightfest begins in "Mr. and Mrs. Simpson" as Homer and Marge leave for what appears to be an ordinary day. But Homer is living a double life as a secret agent, and he is assigned to eliminate Kent Brockman. When a mysterious woman blocks Homer's shot and tries to kill Brockman herself, Homer finds that his competition "hits" a little too close to home. In "E.T. Go Home," Bart and Lisa come to the aid of Kodo the space alien, who's hiding from the government. Kodo asks them to help him obtain a long list of devices so he can reconnect with his home planet, but his intentions prove to be anything but friendly. In the final Halloween scare, "Heck House," Bart, Lisa and their friends spend Halloween night pulling pranks on unsuspecting people in Springfield. But when they go too far, Flanders decides he's going to spook them straight. Transforming the church into the "Heck House," Flanders is filled with supernatural power and subjects the children to his wrath of seven deadly sins.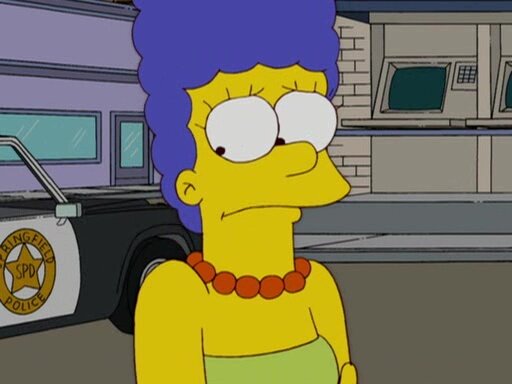 I Don't Wanna Know Why the Caged Bird Sings 19x04
15.10.2007
While waiting in line at the bank, Marge strikes up a conversation with a strange man named Dwight (Steve Buscemi) who later attempts to rob the bank. When the police show up, Marge convinces a cornered Dwight to turn himself in by promising to visit him in prison. As Dwight eagerly awaits Marge's visit, Homer assures her that Dwight will not expect her to actually visit. But when Dwight receives a phone call and the caller (Ted Nugent) isn't Marge, he escapes to find her. Watching the news report about Dwight's jail break, she wishes she had kept her promise.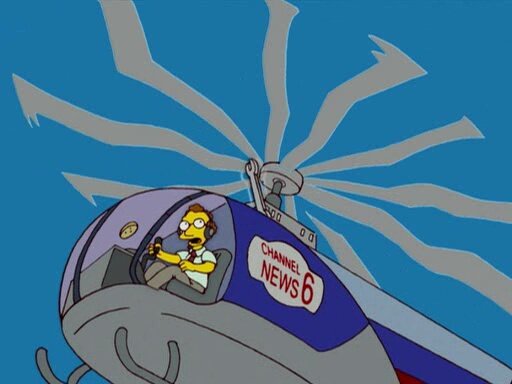 Midnight Towboy 19x03
08.10.2007
Feeling that Maggie is getting too clingy, Marge hires a counselor to teach her the "C.R.I.E. Method," a counseling program that helps parents raise their children to be very independent at an early age. But the method works a little too well, leaving Maggie with no need for Marge at all. Meanwhile, Homer goes in search of milk for Maggie in Mookington and ends up having his car towed by a tow truck driver named Louie (Matt Dillon) who introduces Homer to the joy of towing cars for a living. Louie invites Homer to be the tow truck driver for Springfield on one condition: that Homer stay off of Louie's turf in Mookington. When Homer gets a little too "tow happy," the residents of Springfield set Homer up to look like he's towing in Louie's territory, and Homer must suffer the wrath. With Homer missing, the newly independent Maggie is spurred to action.
Homer of Seville 19x02
01.10.2007
Homer injures himself in a fall, and while in the hospital he develops the ability to sing in a beautiful, operatic voice whenever he is lying on his back. Mr. Burns overhears Homer during one of his singing sessions at the hospital and immediately hires him to sing the lead in his production of "La Bohème." Although Homer has to lie down during the performance, he wows the crowd at the Springfield Opera House. Homer becomes an enormous celebrity, especially with the ladies - much to Marge's chagrin. While running from a mob of crazed fans, Homer is saved by a mysterious woman named Julia (Maya Rudolph), who turns out to be a little too concerned for Homer's well being. Blackboard 'The Wall Street Journal is better than ever.'.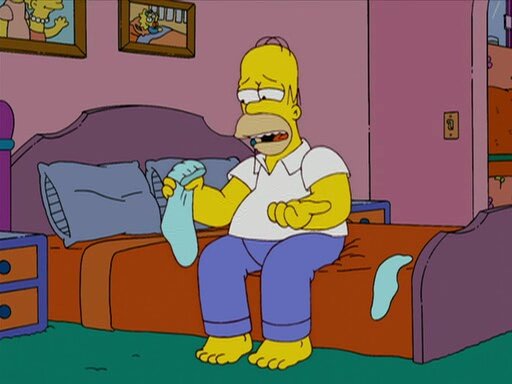 He Loves to Fly and He D'ohs 19x01
24.09.2007
After Homer saves Mr. Burns from drowning in a mall fountain, Burns thanks him by taking him on a whirlwind trip to Chicago on his private plane. Homer is smitten with the luxury jet and all the perks that come with it, including flying with song legend Lionel Richie, who serenades him with a customized version of "Say You, Say Me." After returning home, Homer makes it his mission to find a job that offers him the chance to fly on a corporate jet and enlists a life coach, guest star Stephen Colbert, to help fulfill this dream.