The Simpsons is the longest running scripted show in US television history. It captures the adventures of Homer, Marge, Maggie, Bart and Lisa who are living in a fictional town called Springfield.
Add to my shows
Next episode
A Made Maggie 33x10
20.12.2021
Fat Tony becomes Godfather to Maggie Simpson.
season 18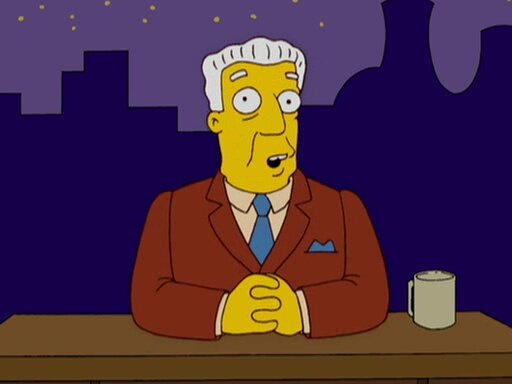 You Kent Always Say What You Want 18x22
21.05.2007
At the Simpsons' annual dental check-up, Lisa gets an education in dental hygiene from a video starring Ludacris (guest voice Chris "Ludacris" Bridges) as Luda-Crest, a tube of toothpaste with a talent for rapping. The Simpsons stop for ice cream on the way home from the dentist, and when Homer purchases the 1-millionth ice cream cone, he is featured on Kent Brockman's nightly news program. However, the innocent interview turns into trouble when Brockman uses a shocking expletive and Ned Flanders wages an anti-indecency campaign. The Simpsons take in the dejected Brockman, and he and Lisa begin to devise a scheme for the anchor to make his comeback. Meanwhile, Principal Skinner ushers the students of Springfield Elementary into a new era of sneaking, snooping and snitching with the opening of the school's CTU Counter Truancy Unit with Lisa heading up the operation. Homer is sent on a mission to dispose of a container of yogurt so far past its freshness date that it could be toxic, but the reeking yogurt falls into the wrong hands. With the help of Jack Bauer (guest voice Kiefer Sutherland) and Chloe O'Brian (guest voice Mary Lynn Rajskub), Bart and Lisa must stop bullies Dolph, Kearney and Jimbo from releasing the ultimate stink bomb at the school's annual bake sale.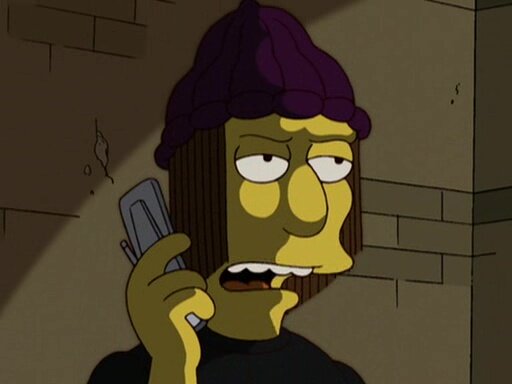 24 Minutes 18x21
21.05.2007
In a parody of "24," the school's Counter Truancy Unit tries to stop three sixth-graders planning to disrupt the school bake sale with a stink bomb.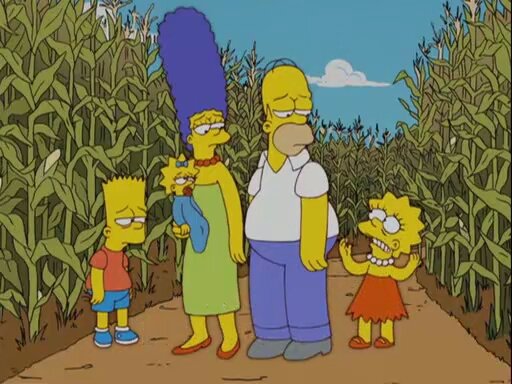 Stop or My Dog Will Shoot 18x20
14.05.2007
Homer is upset when he realizes that Marge brought him and the family to a boring Harvest Fest instead of his much-anticipated day of debauchery at October Fest. Attempting to leave, Homer accidentally drags the family into a puzzling cornfield maze. When the whole family manages to escape except for Homer, they send out Santa's Little Helper, who sniffs out Homer and rescues him. Santa's Little Helper becomes a local hero and the Simpsons decide to enroll him in Police Dog Academy, where he's teamed with a grizzled veteran cop named Lou and they become a crime-busting duo. Bart's excitement quickly dissipates when a jaded Santa's Little Helper bites him, and the Simpsons send the dog away to live with Chief Wiggum. To appease Bart's depression after the loss of his dog, Marge agrees to buy him a huge pet snake. But when the snake causes a life-threatening situation at Bart and Lisa's school, Santa's Little Helper gets a chance to redeem himself.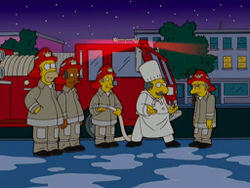 Crook and Ladder 18x19
07.05.2007
Maggie goes on a path of destruction in the Simpsons' home after Marge follows advice in a parenting magazine and throws away her pacifier. Marge finally gives in and sends Homer to get Maggie a new pacifier, but when he can't find the right brand, Maggie comes up with her own substitute - an especially squeaky dog toy. Homer can't sleep through the toy's incessant squeaking and is driven to take sleeping pills, which turn him into a sleepwalker with a penchant for mischief. When one of Homer's sleepwalking schemes leaves the entire Springfield Fire Department debilitated in the hospital, Homer and some of his fellow Springfieldians become volunteer firefighters. They extinguish several fires and are rewarded with gifts, but when the gifts stop coming, they seek other forms of compensation for their heroic acts.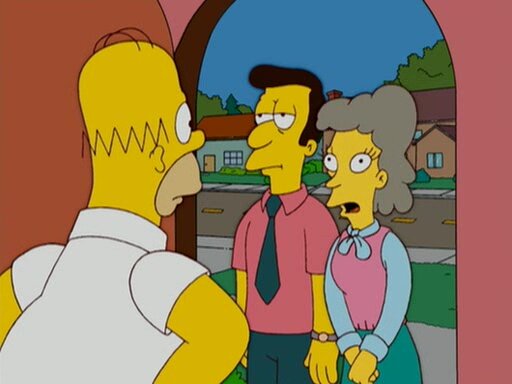 The Boys of Bummer 18x18
30.04.2007
Bart becomes a hometown hero when he makes the game-winning catch at his Little League game, sending the Springfield Isotots to the Little League championship for the first time ever. However, Springfield turns on him when he drops an easy pop fly in the bottom of the ninth, losing the game for his team. As the citizens of Springfield continue to mock and terrorize Bart, his guilt and shame threaten to send him over the edge. In an effort to cheer him up, Lisa introduces Bart to Bill Buckner. Meanwhile, after falling asleep in a department store display bed, Homer is saved from disaster when a customer mistakes Homer's crafty excuses for a sales pitch, leading the store owner to hire Homer as a salesperson. When the Lovejoys return a mattress they had purchased in hopes of spicing up their sex life, they find success on Homer's personal mattress and convince him to trade, a transaction Homer and Marge immediately regret and seek to remedy.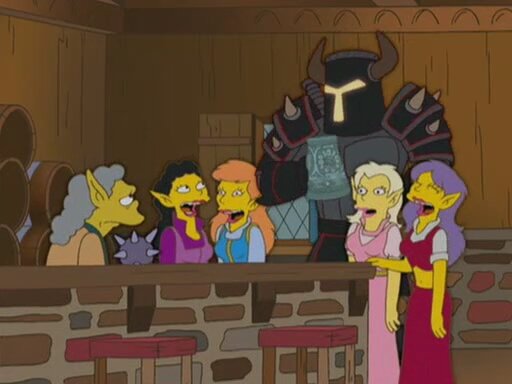 Marge Gamer 18x17
23.04.2007
Marge becomes a spectacle during a PTA meeting for not having an e-mail address, and she decides to take a chance on using the Internet. Amazed and delighted by all the Internet has to offer, Marge joins a popular role-playing fantasy game called 'Earthland Realms' To Marge's dismay, the game has her interacting with practically the whole town of Springfield including Bart, who happens to be the game's most feared and destructive player. Meanwhile, Homer saves Lisa's soccer game from cancellation after he volunteers to take the place of a referee who recently quit. However, Homer's refereeing skills only exasperate Lisa, and her competitive streak gets the best of her.
Homerazzi 18x16
26.03.2007
When a candle on Homer's birthday cake sets fire to his party hat, the Springfield fire department must save the Simpson home from peril for the sixth time that month. Marge is inspired to purchase a fireproof safe to protect the family's most precious valuables, but a freak accident causes the safe itself to explode and destroy its contents, including Marge's family photo album. Refusing to accept the tragedy, Marge decides to restage all of the family's photographs, and when a celebrity dating scandal is captured in the background of one of their photos, the Simpsons strike tabloid gold. Tasting success and seeing money to be made, Homer takes to the streets as one of the paparazzi. Overnight, Homer becomes Springfield's most valued photographer, and he appears unstoppable. However, when he crashes a celebrity wedding, the subjects who've been humiliated in his photos band together to seek revenge against Homer.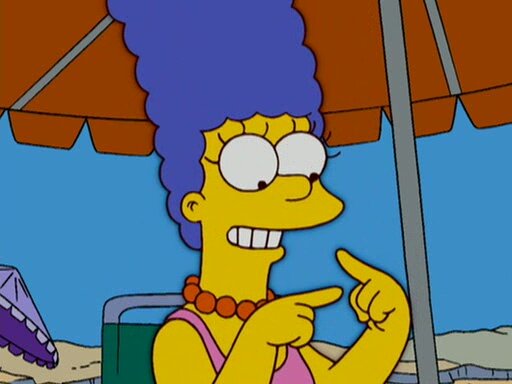 Rome-old and Juli-eh 18x15
12.03.2007
The court appoints an accountant for Homer when he incorrectly files for bankruptcy, which results in his cutting back on all of his expenses, including Grampa's nursing home. In an unexpected turn of events, Grampa and Selma fall in love and move in together, and Homer and Patty plot to break up their love connection. Meanwhile, Bart and Lisa con a delivery man into giving them the most sought-after commodity in the neighborhood - cardboard boxes. Their alliance is put to the test when the delivery man realizes he was duped. Blackboard: 'We are not all naked under out clothes'.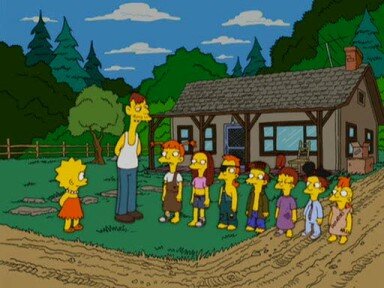 Yokel Chords 18x14
05.03.2007
When the ever-righteous Lisa protests denying education to Cletus' 'hillbilly' kids, Principal Skinner offers her a chance to tutor the kids herself. However, Lisa's plans to help are diverted when Krusty spots the kids during their field trip and decides to use them as a musical act for his show. Meanwhile, in a scheme to steal his lunch for the day, Bart tries to scare his peers out of the cafeteria by claiming it's haunted by the ghost of an old school chef who uses students as ingredients in his recipes. When the school erupts with fear and chaos, Bart is punished and sent to receive psychiatric treatment, and he develops a unique relationship with his therapist.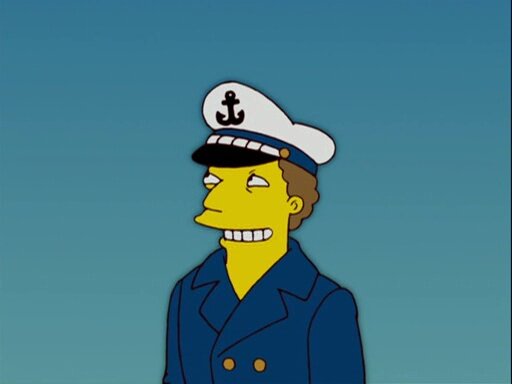 Springfield Up 18x13
19.02.2007
An eccentric documentary filmmaker Declan Desmond offers an inside look at his work chronicling the growth and development of some of Springfield's 'finest' for his documentary, 'Growing up Springfield.' We see Marge put her photojournalism dreams on hold in order to support Homer as he tries out odd jobs in search of success that continually evades him until a strange invention turns it all around for the couple. However, a suspicious Desmond challenges the Simpsons, who have a lot of questions to answer about their overnight success.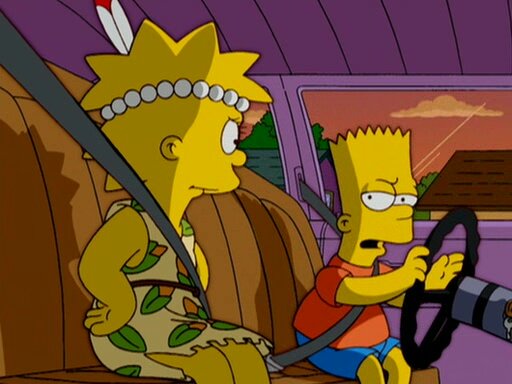 Little Big Girl 18x12
12.02.2007
When Lisa struggles to find excitement and intrigue in her family heritage for a school presentation, she decides to take creative license in crafting her heritage as a Native American, since it's only for a school project. What begins as an innocent embellishment quickly turns into a web of lies when Lisa is chosen to represent the school, and 'her people,' at City Hall, and then as a keynote speaker for the National Native American Tribal Council. As a reward for his heroic act, Bart is granted a driver's license, and in an attempt to escape endless family errands and chauffeuring he flees to a faraway town where he is romanced by an older teenage girl whose expectations may prove to be too much for Bart.
Revenge is a Dish Best Served Three Times 18x11
29.01.2007
After the Simpsons' car breaks down, the family tells each other tales of revenge gone wrong. Marge offers a cautionary tale of revenge from 19th-century France, where Homer is charged with treason; Lisa tells of a nerd revenge at Springfield Elementary involving Milhouse leading the nerds to overthrow the bullies; and Bart's story follows the great crime-fighter.
The Wife Aquatic 18x10
08.01.2007
While watching a home movie, Marge becomes depressed as she is reminded of memorable childhood vacations spent at Barnacle Bay. Hating to see Marge sad, Homer and the kids take her on a surprise trip to the bay, only to discover that it has turned into a rundown mess due to the absence of fish. Homer and the kids lovingly give the boardwalk a whole new makeover for Marge. But when Homer accidentally lights the renovated carousal on fire, stirring up an angry mob of townspeople, more than just waves come crashing down.
Kill Gil (Parts I & II) 18x09
18.12.2006
During a holiday ice skating show starring guest voice Elvis Stojko, Homer jumps into a chaotic brawl involving the other ice skaters. In order to escape the chaos, Marge decides to take the family holiday shopping. Gil, dressed as Santa Claus, unknowingly gives Lisa a sold-out Malibu Stacy doll that belongs to his boss' daughter. When Gil loses his job, the Simpsons invite him over for Christmas dinner, which becomes a huge mistake as Gil moves in uninvited and mooches off the Simpsons. Out of guilt, Marge continually allows Gil to prolong his stay, but when her patience wears thin, she's forced to overcome her fear and finally say 'no'.
The Haw-Hawed Couple 18x08
11.12.2006
After Bart convinces all his friends not to go to Nelson's birthday party, Marge forces him to attend. After the party, Bart becomes Nelson's new best friend and under Nelson's protection no one dares to mess with Bart. There's only drawback to his newfound friend/bodyguard ; he can no longer pal around with Milhouse.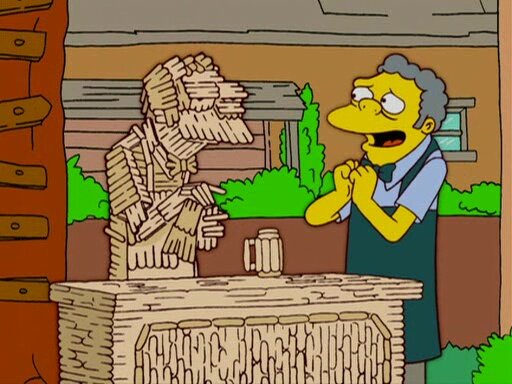 Ice Cream of Margie (With the Light Blue Hair) 18x07
27.11.2006
After Homer gets fired at the nuclear power plant, he takes over the ice cream truck business, while a depressed Marge creates popsicle stick sculptures to keep busy. The sculptures quickly become popular and Marge is excited to have a purpose in life, until a turn of events divides the Simpsons household.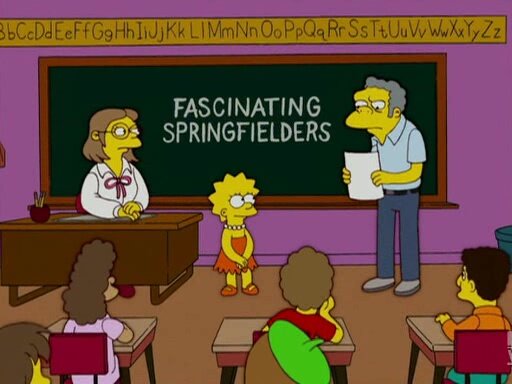 Moe 'N' a Lisa 18x06
20.11.2006
When Homer forgets Moe's birthday, Moe's anger inspires Lisa to write about him for her school report. She finds a poetic side to Moe and helps him get published in "American Poetry Perspectives." However, when Moe is featured at a literary conference, where he encounters Gore Vidal, Michael Chabon, Tom Wolfe and Jonathan Franzen, he takes all the credit despite Lisa's feelings.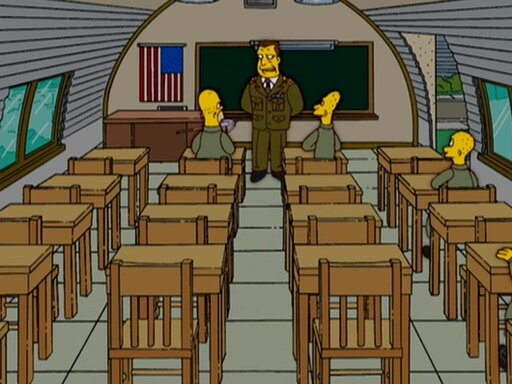 GI (Annoyed Grunt) 18x05
13.11.2006
After Bart gets out of a commitment to join the Army at 18, Homer falls prey to a couple of Army recruiters and lands himself in basic training. Homer, of course, treats it like summer camp and infuriates his hard-nosed colonel when he is unfazed by the constant hazing and humiliation. Homer is assigned as the enemy of the Army's war games, but when the war games get out of hand and Springfield becomes the battlefield, Homer and the Springfield community must join forces before the city goes up in smoke.
Treehouse of Horror XVII 18x04
06.11.2006
Hand out screams and scare up laughs in their annual, bone-chilling Halloween special. The horror starts in 'Married To The Blob,' when a meteor falls to Earth and reveals a green goo that Homer mistakes for a marshmallow. After Homer eats the goo, he turns into a rampaging blob with a never-ending appetite that even guest voice Dr. Phil McGraw can't stop. In 'You Gotta Know When To Golem,' the fright-fest continues when Bart brings Golem, guest voice Richard Lewis as a legendary monster from Jewish folklore, to life and forces him to carry out his ghastly bidding. But when the creature is finally freed of his evil-doing, Marge, Bart and Lisa create a female monster that captures Golem's heart. In the final scare, 'The Day the Earth Looked Stupid,' a fake radio broadcast convinces the residents of Springfield that they're in the midst of an alien invasion, throwing the town into a state of pandemonium ; which only worsens when the invasion stops being a hoax and becomes reality.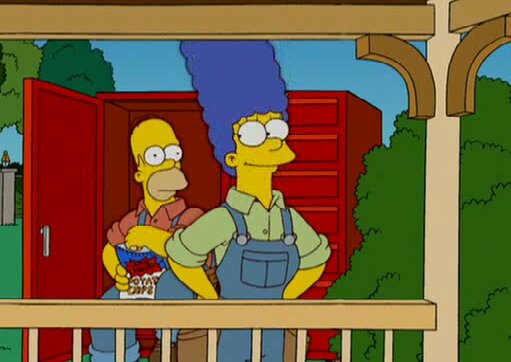 Please Homer, Don't Hammer 'em 18x03
25.09.2006
Hoping to see a new side to Homer, Marge convinces him to buy a refined collection of carpentry books. To Marge's dismay, the books only gather dust until she accidentally breaks a nightstand - and uses the books to fix it herself. Soon Marge is hammering together everything from birdfeeders to doghouses and it isn't long before she decides to transform her new skills into a full-fledged business. Unfortunately, the residents of Springfield don't trust a handywoman to make repairs, so Marge hires Homer to pose as a "front" while she handles the real work. Meanwhile, Bart finds out that peanuts are no longer allowed at Springfield Elementary because someone suffers from an allergy. But this loss becomes his treasure when he finds out that the allergy belongs to his nemesis, the one and only Principal Skinner. Before long, both Bart and Homer are in over their heads and it's up to Marge to nail things back together.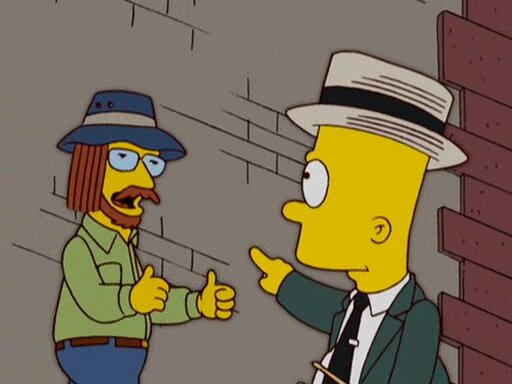 Jazzy and the Pussycats 18x02
18.09.2006
When Bart turns a quiet funeral into a chaotic mess, his parents are faced with a mob of angry Springfieldians who have had enough. Homer and Marge desperately look to a child psychiatrist for help, who suggests that Bart take up drumming to channel his energy. Before long, Bart is laying down fills like a pro, getting into drum-offs with The White Stripes, and jamming in a band with Lisa's favorite jazz musicians. It doesn't take long before Lisa's encouragement turns to deep-seated jealousy, forcing the Simpson siblings to learn how to march to the beat of the same drum.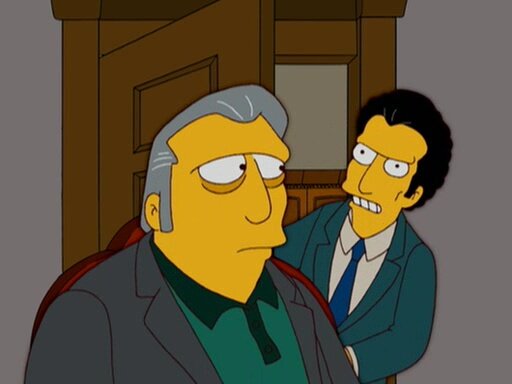 The Mook, the Chef, the Wife and Her Homer 18x01
11.09.2006
After Lisa befriends Fat Tony's son Michael, Fat Tony invites the Simpsons over for dinner as a sign of gratitude. Shockingly, Fat Tony is shot by a rival family moments after Michael admits he would rather be a chef than take over the family business. Fat Tony's main thugs, Dante and Dante Jr., want Michael to be the new kingpin, but when he declines, Homer steps up and leads the family on a major mob spree in "The Mook, The Chef, The Wife and Her Homer".