The Simpsons is the longest running scripted show in US television history. It captures the adventures of Homer, Marge, Maggie, Bart and Lisa who are living in a fictional town called Springfield.
Add to my shows
Next episode
A Made Maggie 33x10
20.12.2021
Fat Tony becomes Godfather to Maggie Simpson.
season 13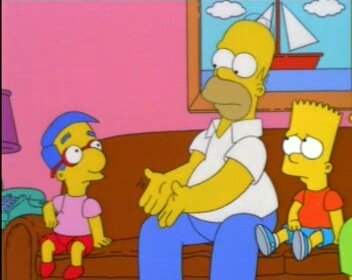 Papa's Got a Brand New Badge 13x22
23.05.2002
Homer starts a security company that ultimately replaces the cops---and runs afoul of mobster Fat Tony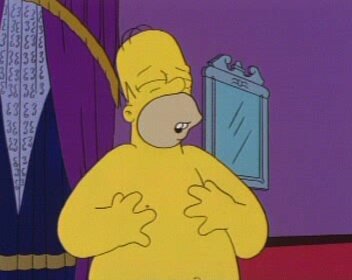 Frying Game 13x21
20.05.2002
Homer's community service for threatening an endangered species involves helping a kindly senior, who meets an untimely death.
Little Girl in the Big Ten 13x20
13.05.2002
Lisa becomes friends with college girls who are unaware of her age. Bart is bitten by a Chinese mosquito and must live in a bubble. Bart and Lisa also share a special moment.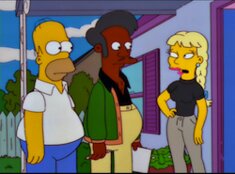 The Sweetest Apu 13x19
06.05.2002
Homer accidentally walks in on Apu when he is cheating on his wife at the Kwiki Mart.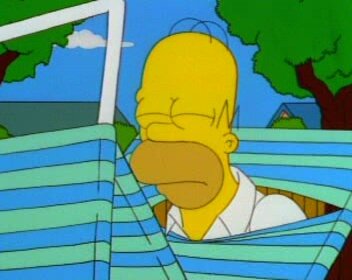 I Am Furious Yellow 13x18
29.04.2002
Encouraged by comic-book guru Stan Lee (in a cameo), Bart creates a strip about Homer that gets onto the Internet.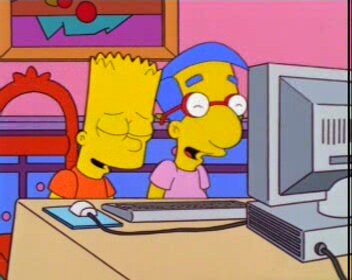 Gump Roast 13x17
22.04.2002
The Springfield Friars Club roasts Homer, with emcee Krusty the Clown introducing friends, family and their memories from past episodes.
Weekend at Burnsies 13x16
08.04.2002
Homer uses medicinal marijuana to relieve pain from eye injuries he suffered when attacked by crows.
Blame It on Lisa 13x15
01.04.2002
Homer refuses to pay a really high phone bill then their service is shut off. The family travels to Rio De Janeiro to see Lisa's sponsored orphan.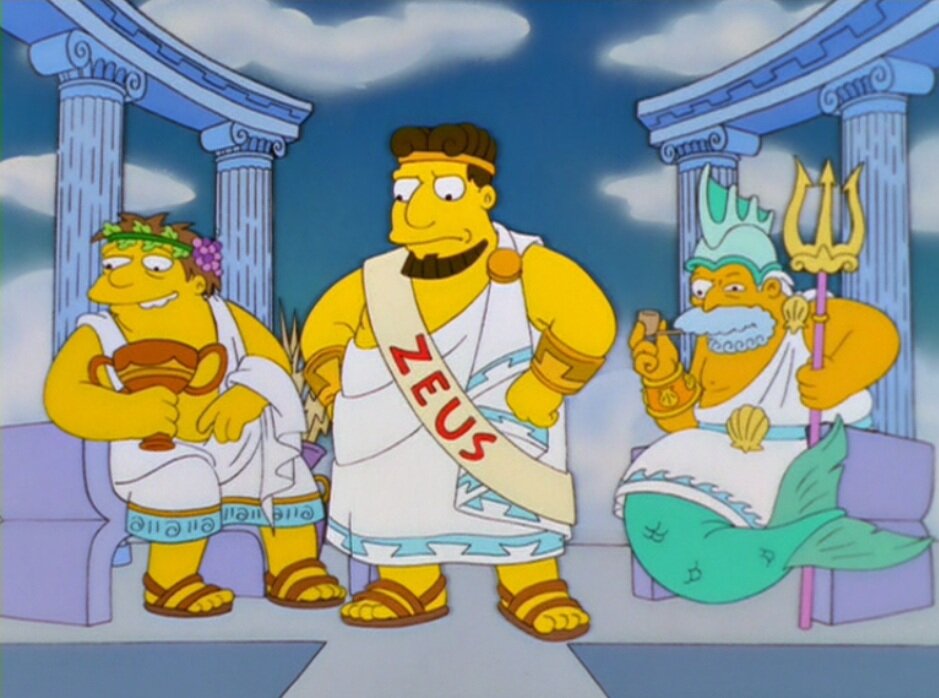 Tales from the Public Domain 13x14
18.03.2002
Homer discovers a library book he checked out when Bart was born and Lisa suggests that he read aloud from it.
The Old Man and the Key 13x13
11.03.2002
Grampa Simpson regains his driver's license to woo a new woman but is goaded into a race by senior punks.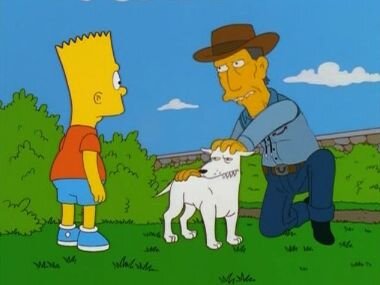 The Lastest Gun in the West 13x12
25.02.2002
Bart and Lisa try to help an old cowboy actor, who yearns to reclaim his past fame by getting him booked on the Krusty the Clown show.
The Bart Wants What It Wants 13x11
18.02.2002
Bart ends up becoming close friends with Greta Wolfecastle after a fun fair and he has a blind eye to her feelings about him.
Half-Decent Proposal 13x10
11.02.2002
Now fabulously wealthy, Marge's grabby prom date Artie Ziff offers a million dollars for a weekend with her that, he says, will have "no funny stuff." The Simpsons agree when they realize the money will help their marriage---by paying for an operation that will cure Homer's snoring.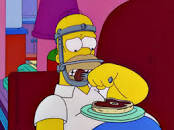 Jaws Wired Shut 13x09
28.01.2002
When Homer accidentally breaks his jaw, he has to have it wired shut and can not talk. He learns to become the good listener that Marge has wanted.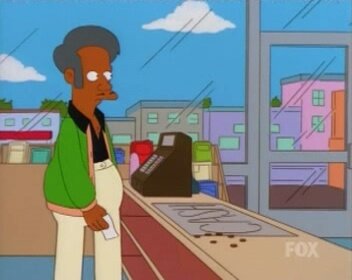 Sweets and Sour Marge 13x08
21.01.2002
Ben Stiller plays a sugar company's CEO who draws Marge's ire after Springfield is declared the "World's Fattest Town."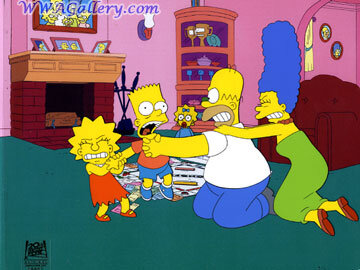 Brawl in the Family 13x07
07.01.2002
Grampa comes to Homer's rescue after Ned and His Vegas wives show up at the house.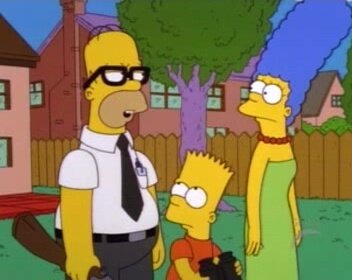 She of Little Faith 13x06
17.12.2001
In this Christmas episode, Richard Gere offers Buddhist teachings to Lisa after she leaves her church because of Mr. Burns' tacky fund-raising efforts, which include commercials (during sermons) and podium-placed ads. Blackboard: 'I do not have a cereal named after me'.
The Blunder Years 13x05
10.12.2001
Marge becomes obsessed with a brand of paper towels and Homer pulls a gag on her. To make up for it, Homer takes her out, gets hypnotized and regresses to a childhood fear and starts screaming and does not stop until the source of the fear is drawn out of him. Blackboard 'I am not Charlie Brown on acid'.
Hunka Hunka Burns in Love 13x04
03.12.2001
Homer is hired to write fortunes for fortune cookies, one of them changes Mr. Burn's life. Homer helps Mr. Burns with his dating. Blackboard: 'Fun does not have a size'.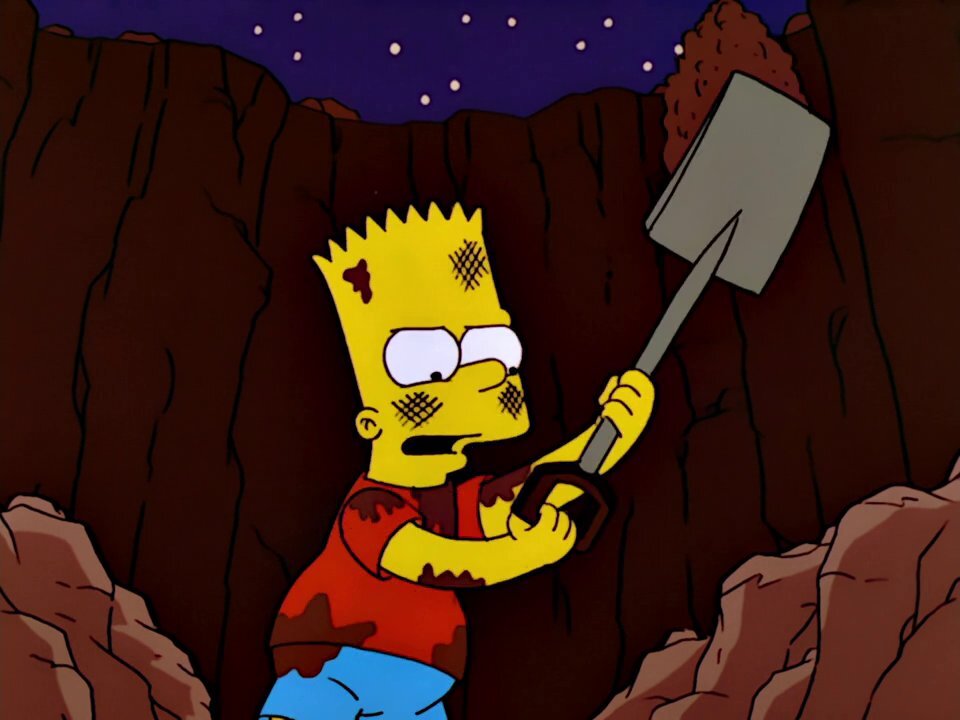 Homer the Moe 13x03
19.11.2001
Moe gets more depressed than usual and renovates his tavern. He then kicks the old gang out and Homer opens a bar in his garage so the gang can have a place to hang out and fit in.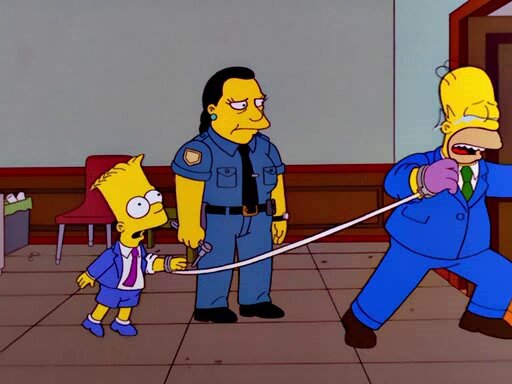 The Parent Rap 13x02
12.11.2001
Bart is tethered to Homer as punishment for stealing a police cruiser. Blackboard 'Nobody reads these anymore!'.
Treehouse of Horror XII 13x01
07.11.2001
"Treehouse of Horror XII" includes Pierce Brosnan as the voice of a computerized house that falls for Marge; a Gypsy's curse bringing bad luck to Homer's loved ones; and Bart and Lisa as competing wizards, with Bart enlisting help from a dark source.