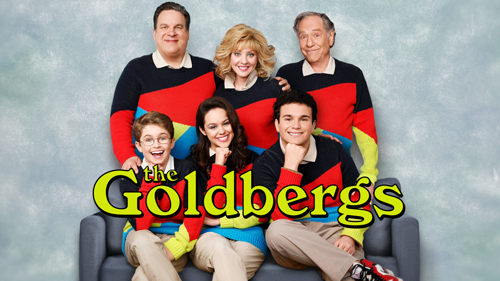 Before there were parenting blogs, trophies for showing up and peanut allergies, there was a simpler time called the '80s. For geeky and movie obsessed youngest child Adam, these were his wonder years, and he faced them armed with a video camera to capture all the crazy. The Goldbergs are a loving family like any other -- just with a lot more yelling. Mom Beverly is a classic "smother," an overbearing, overprotective matriarch who loves her delicious kids, but still rules this brood with 100% authority and zero sense of boundaries. Dad Murray is gruff and sometimes oblivious, parenting with half his attention span but all his heart. Sister Erica is popular and terrifying, doing her best to cover up that she's the smartest of the clan. Barry is a passionate dreamer, who maybe dreams a little too big and who always gets the short end of the stick. Adam is the youngest, a camera-wielding future director who's navigating first love, and growing up with his family. Rounding out the family is beloved grandfather Al "Pops" Solomon, the wild man of the clan, a shameless Don Juan who's learning as much from his family as he teaches them.
Add to my shows
Next episode
Tennis People 09x09
thursday
season 1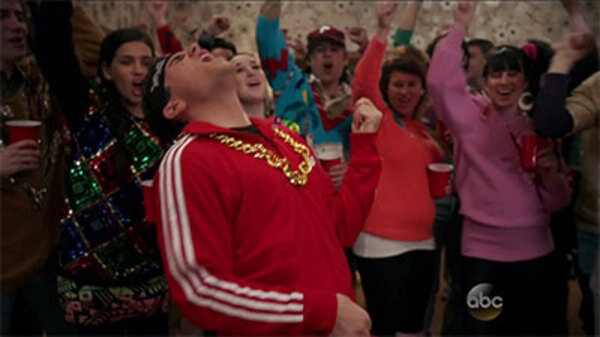 Livin' on a Prayer 01x23
14.05.2014
When Murray learns his high school free throw record has been broken, he begrudgingly attends a banquet as the guest of honor. Reliving his glory years, his school spirit is re-energized until he is mocked by the crowd. Elsewhere at home, Barry decides to throw a party where he quickly loses the spotlight and it is up to Erica's friend Lainey to help him get it back, on the season finale of "The Goldbergs," TUESDAY, MAY 13 on the ABC Television Network.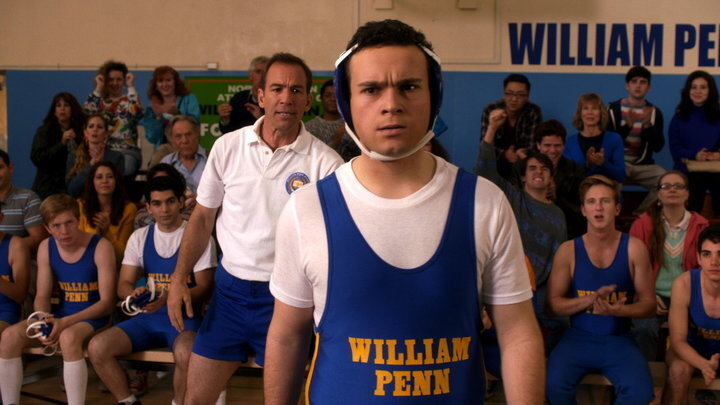 A Wrestler Named Goldberg 01x22
07.05.2014
Murray and Pops convince Barry to come up with an elaborate lie about him joining the wrestling team so an overprotective Beverly is duped. When the truth comes out and backfires, Beverly takes matters into her own hands. Meanwhile, Adam convinces Erica to take him to the local premiere of "Return of the Jedi" but she flakes to hang out with her friends. When Erica sees his disappointment, she makes good on her original promise with a plan.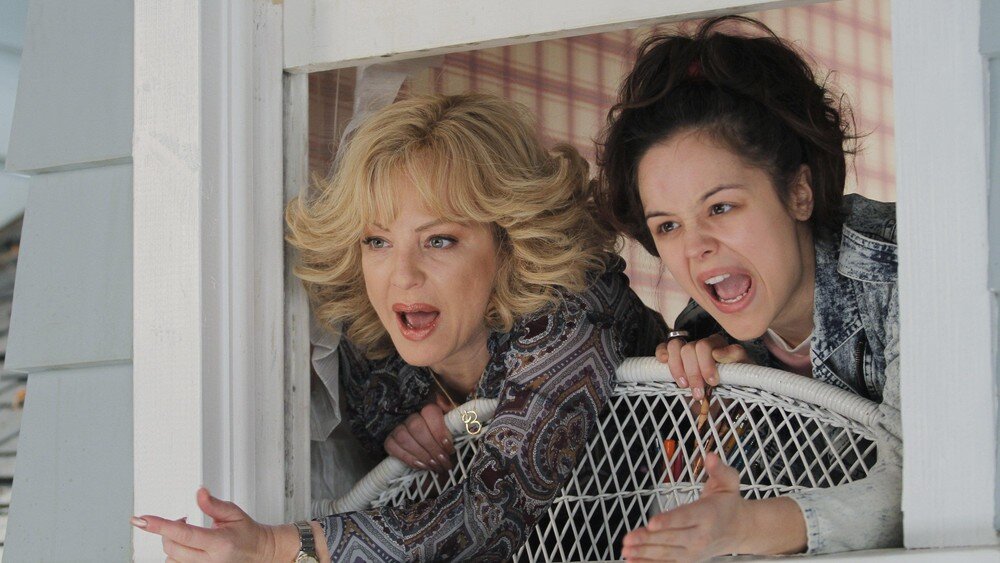 The Age of Darkness 01x21
30.04.2014
"The Age of Darkness - Despite her best efforts, Beverly is crushed when she cannot console Erica when her boyfriend, Drew Kremp, dumps her. So Murray steps in to help his daughter. Meanwhile, Barry is obsessed with a new arcade game and continually asks Pops for money to play. When he takes the situation to a desperate level involving Adam, an intervention is planned.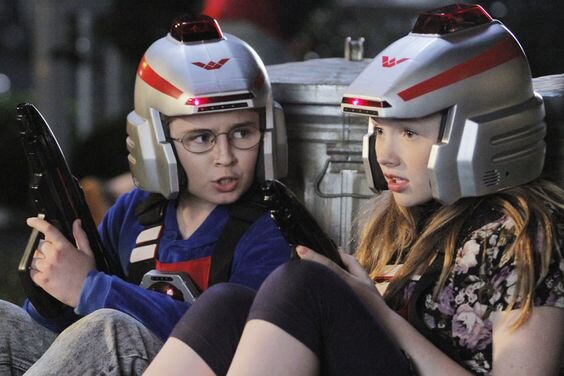 You're Not Invited 01x20
09.04.2014
Adam is very excited for his laser tag birthday party since he plans to invite Dana for the first time. But Barry thinks the theme is childish and agrees to help Adam organize a secret make out party in the basement. When Erica finds out, she tells a panic-stricken Beverly but Murray cannot be bothered to help stop the party from happening. Meanwhile, Pops and Murray are captivated by the opening of Al Capone's safe on television.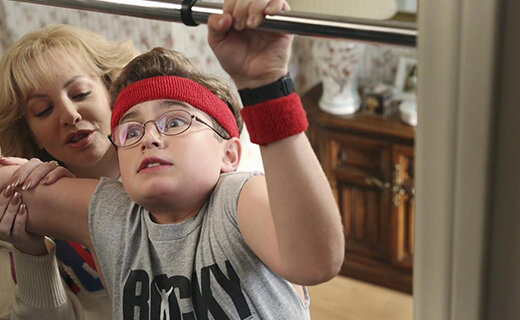 The President's Fitness Test 01x19
02.04.2014
Adam is terrified of the upcoming Presidential Physical fitness test so Beverly decides to write him a note to get out of the test. The plan backfires when the gym teacher declares the only way to excuse Adam is a Presidential pardon and soon finds Beverly on a mission. Meanwhile, Erica's French pen pal Fanny comes to visit and Barry begs Erica to help him learn French to impress her.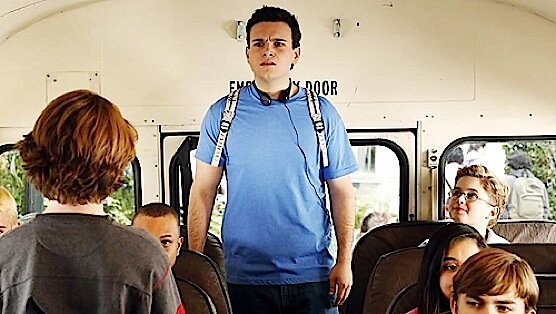 For Your Own Good 01x18
19.03.2014
From wearing the same shoes to always eating a bagel with cream cheese for breakfast, Murray is a creature of habit in and around the house. When Beverly changes his favorite easy chair with something new and "better," he flips out. So he repays the favor to Beverly by removing the oven in the kitchen so she can cook food in the "better" microwave. Soon, it becomes a heated game of back and forth between the couple as more things around the house get changed. Will they reach a breaking point and get their lives back to "normal?" Meanwhile, Adam is being bullied on the school bus by eighth grader JC Spink and looks to Barry to come to his rescue.
Lame Gretzky 01x17
12.03.2014
Even though he is terrible, Adam tries his best at ice hockey and hopes to impress Murray. Likewise, Murray works hard to show he enjoys watching Adam make home movies. Later, after starting a fight on the ice during a game, Adam gets suspended from playing hockey and admits to Murray his real intentions. Meanwhile, Beverly drives Erica crazy about her S.A.T.s.
Goldbergs Never Say Die! 01x16
05.03.2014
Adam is obsessed with the movie "The Goonies" and when Beverly's mother's jewelry goes missing, he bands together Erica, Barry and his friends Emmy Mirksy, Dana Caldwell and Chad Kremp to look for the missing treasure, just like the film.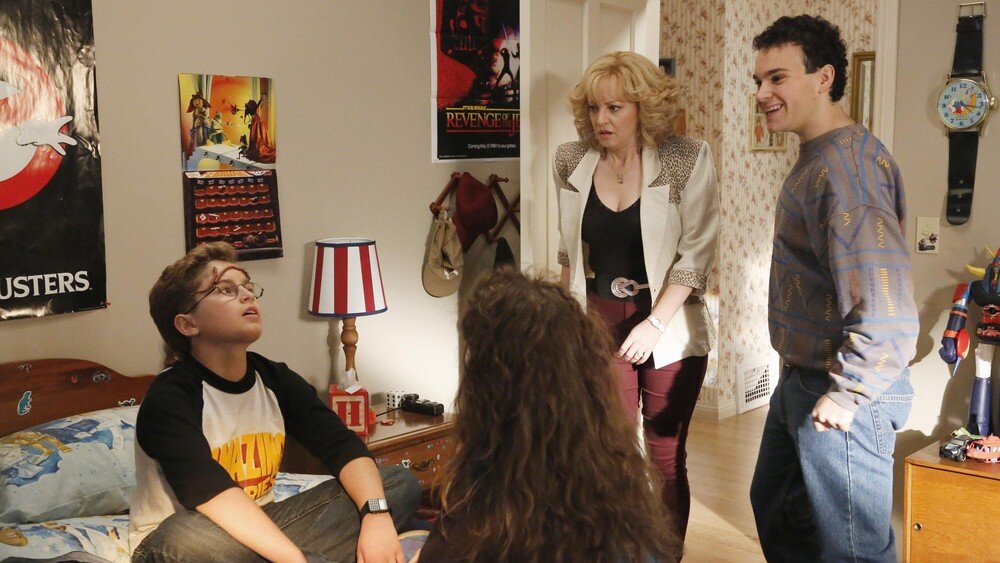 Muscles Mirsky 01x15
05.02.2014
Beverly and Erica come to an agreement about trusting one another after Erica plays a prank with her "smother" regarding a fake entry in her diary. However, their deal is soon off when Erica sneaks off to a college party, and the situation goes awry. It is Beverly who comes to the rescue when Erica needs her most. Meanwhile, Adam and tomboy and best friend Emmy's relationship is called into question when Barry tells him that men and women can't be just friends.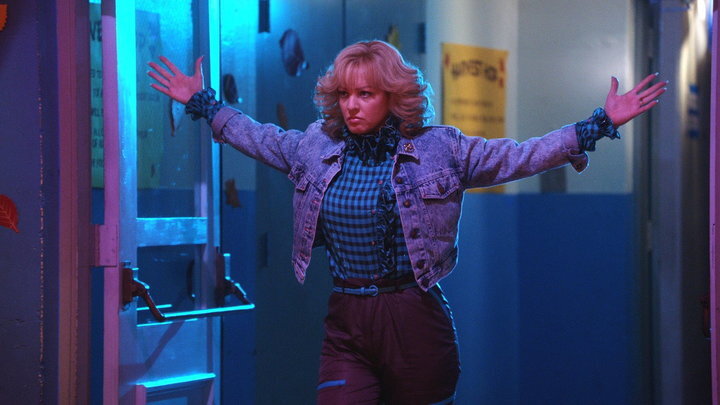 You Opened the Door 01x14
22.01.2014
When Adam and Dana decide to attend their first school dance together, Beverly makes a huge deal out of it and decides she has to help chaperone the event. To prepare for the big night, Adam goes to his mother for advice but soon regrets his decision. Likewise, Dana's mom has plans to attend the dance. The mothers' behavior surprises everyone. Do Adam and Dana stand a chance to have a good time? Meanwhile, Murray talks with Barry about the "birds and the bees" which goes awry.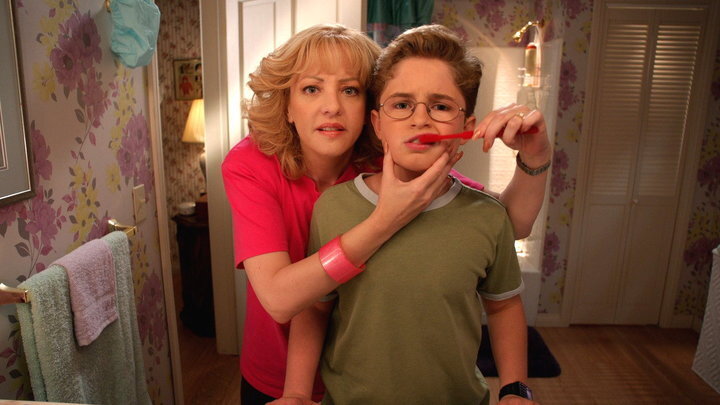 The Other Smother 01x13
15.01.2014
As Beverly networks for Barry and Erica at the college fair, she bumps into her nemesis, Betsy Rubenstone, who acts like she owns the place. Beverly aspires for her kids to be better than Betsy's, so she has a plan up her sleeve for Barry. Meanwhile, Murray takes Adam to the local video store, but video clerk Andre won't let them rent a movie until they pay a late fee for a video he claims they never returned, much to Adam's dismay.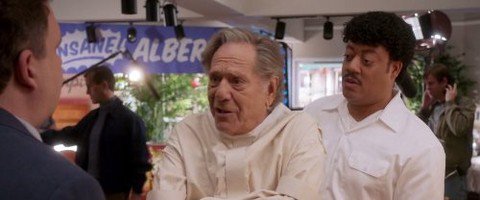 You're Under Foot 01x12
08.01.2014
Pops has grown bored with his day to day life so with a little help from Beverly, Murray convinces him to come to the store with him. Before long, Pops criticizes Murray on how he does business. Things come to a head when Pops makes a decision that affects the Ottoman Empire. Meanwhile, Adam is excited Dana Caldwell comes over to study for the first time and gets some questionable family advice from Erica and Barry, much to Beverly's dismay.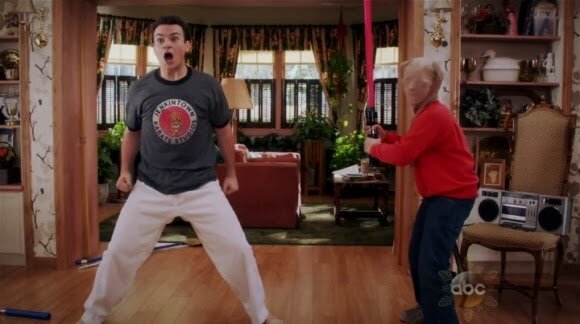 Kara-Te 01x11
11.12.2013
Barry decides to sign up for the school's holiday talent show but is bummed when the school doesn't approve karate as a talent. Beverly is livid and brow beats the teacher in charge to change his mind. After the family watches Barry's routine, everyone wonders whether he will be able to pull off the performance... or crack under pressure. Meanwhile, Erica gets coerced from Pops to also perform in the talent show, but will she?.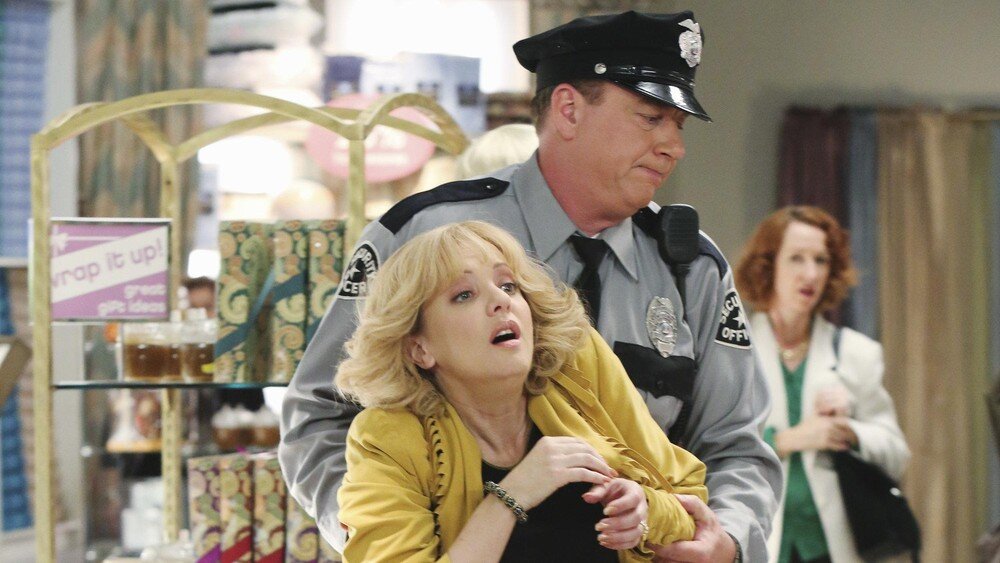 Shopping 01x10
04.12.2013
Beverly can't resist a good sale, even if it is something the family doesn't really need. Murray tells Beverly to stop her bargain hunting despite her protests that she is saving the family money in the long run. So when Erica gets a job at the local department store, Beverly's dream comes true and Erica's nightmare begins. Meanwhile, Pops takes Barry and Adam to the racetrack for an afternoon of fun.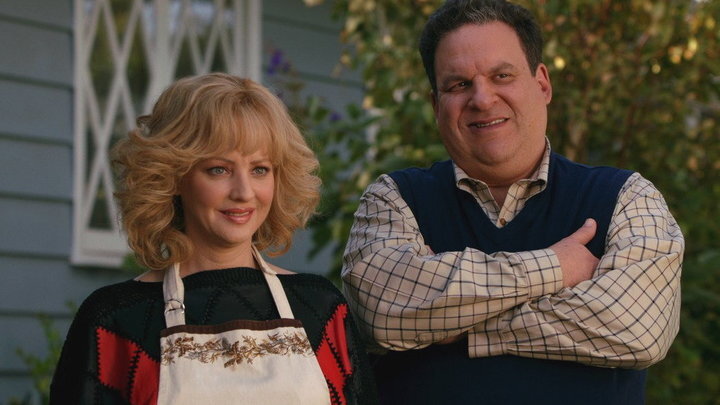 Stop Arguing and Start Thanking 01x09
20.11.2013
Murray awaits for his brother Marvin to visit for Thanksgiving. Beverly suggests Murray take it easy on Marvin, but Murray disagrees since his brother always makes the holiday stressful for the family. But when he arrives, there's a big surprise in store and Murray knows all won't end well.
The Kremps 01x08
13.11.2013
The Goldbergs meet their new neighbors, the Kremps, an all-American family, very well put together and seemingly perfect. Beverly invites them over for a BBQ and gets no response. But nobody says no to Beverly Goldberg! When the Kremps eventually come over as a result of Beverly's insistent urging, the afternoon turns into a frenzy, resulting in an outcome no one saw coming.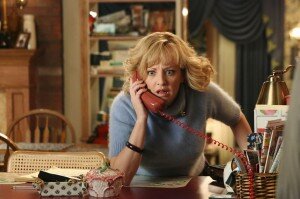 Call Me When You Get There 01x07
06.11.2013
When Barry receives his first driver's license, Beverly lays out the rules about using the car, including the most important... "Call me when you get there!" After Barry disobeys his mother and gets in trouble, he takes Erica's advice to not tell the truth about his whereabouts - no matter where he is - the next time he calls home... but it backfires.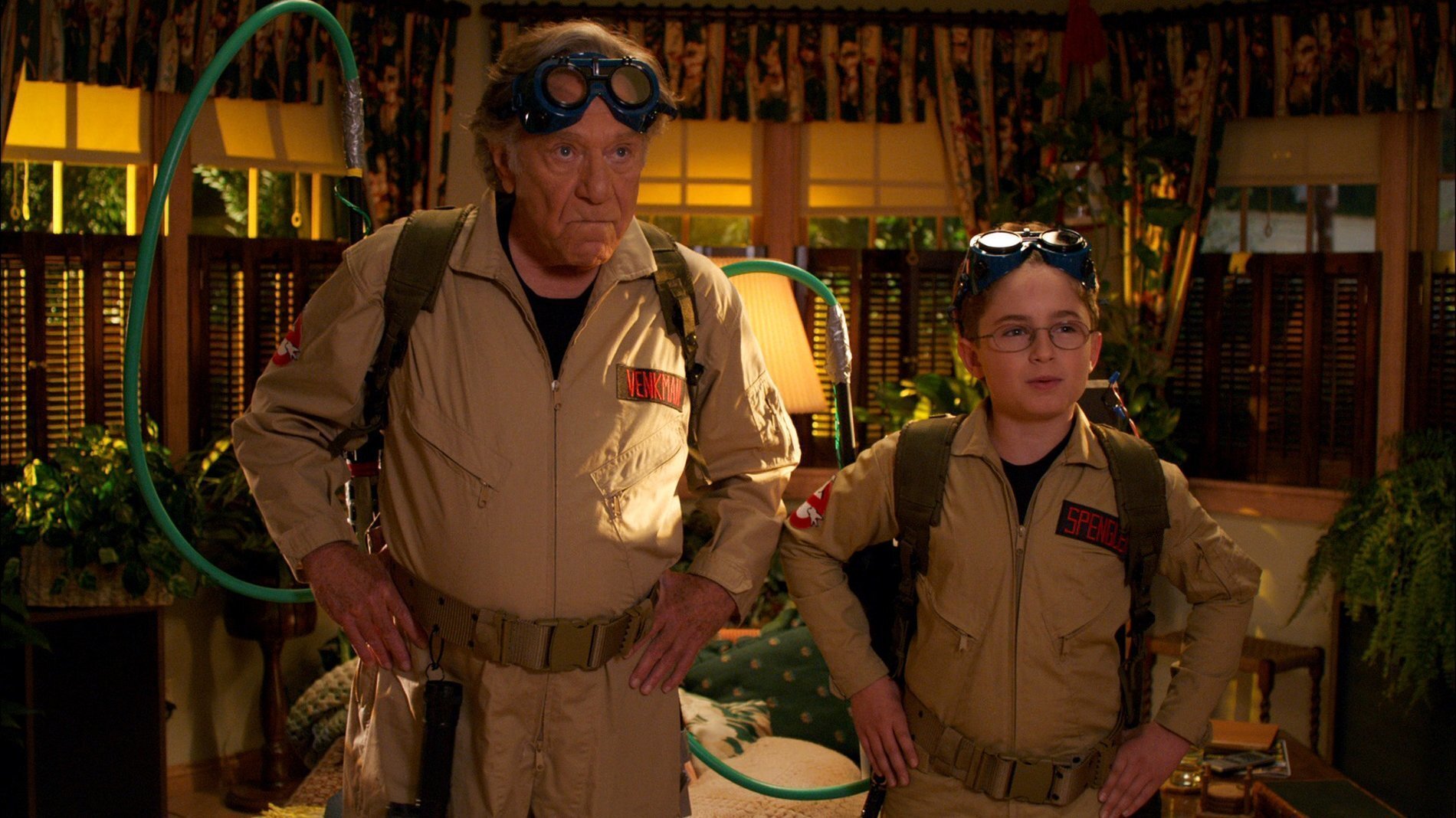 Who Are You Going to Telephone? 01x06
30.10.2013
Beverly loves Halloween, but is disappointed when all of the kids choose not to celebrate the holiday with her. Adam wants to hang out with some 8th grade students, while Barry and Erica decide to attend a high school senior's party, and Beverly takes an unusual step to convince a girl Barry has a crush on to date him. Meanwhile, Adam learns of his plans for the evening from his new "friends" and contemplates what to do next.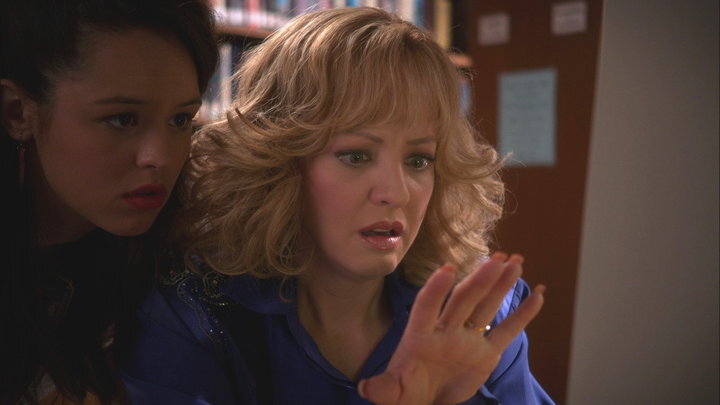 The Ring 01x05
23.10.2013
While cleaning out the garage, Adam, Erica and Barry come across a box of letters written by Murray to a woman named Anita. The kids soon learn more about the mystery woman and get the shock of their lives when they learn how Murray's romantic past is currently linked to Beverly. Meanwhile, Adam has fallen hard for his neighbor and Pops tells him to man up and make his move.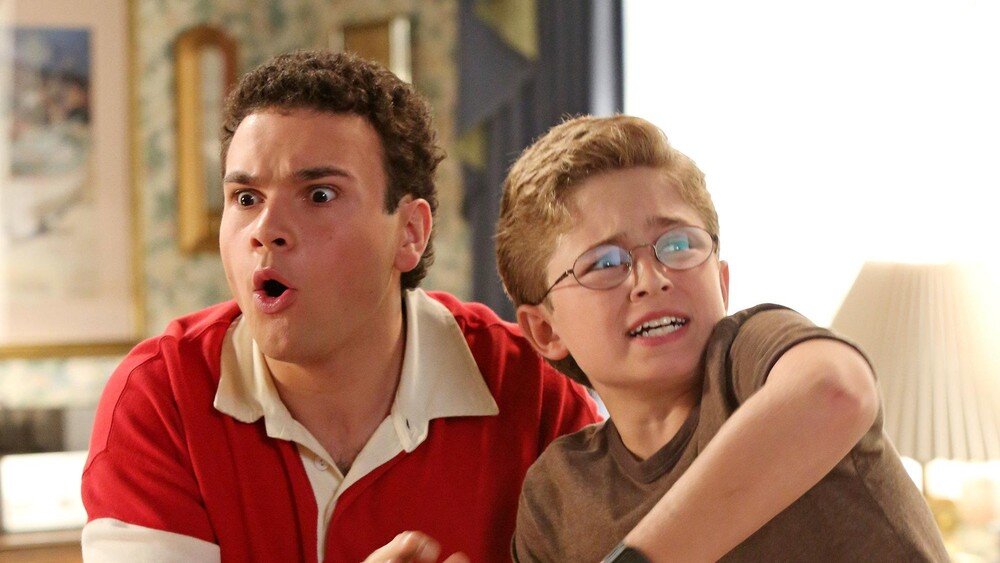 Why're You Hitting Yourself? 01x04
16.10.2013
While fighting over the remote control, Adam reaches a defining moment in his relationship with Barry when they accidentally discover a "channel between the channels" that appears on television. Will anyone else find out? Meanwhile, Beverly grows tired of seeing so many women with Pops and soon mettles in on her father's dating life.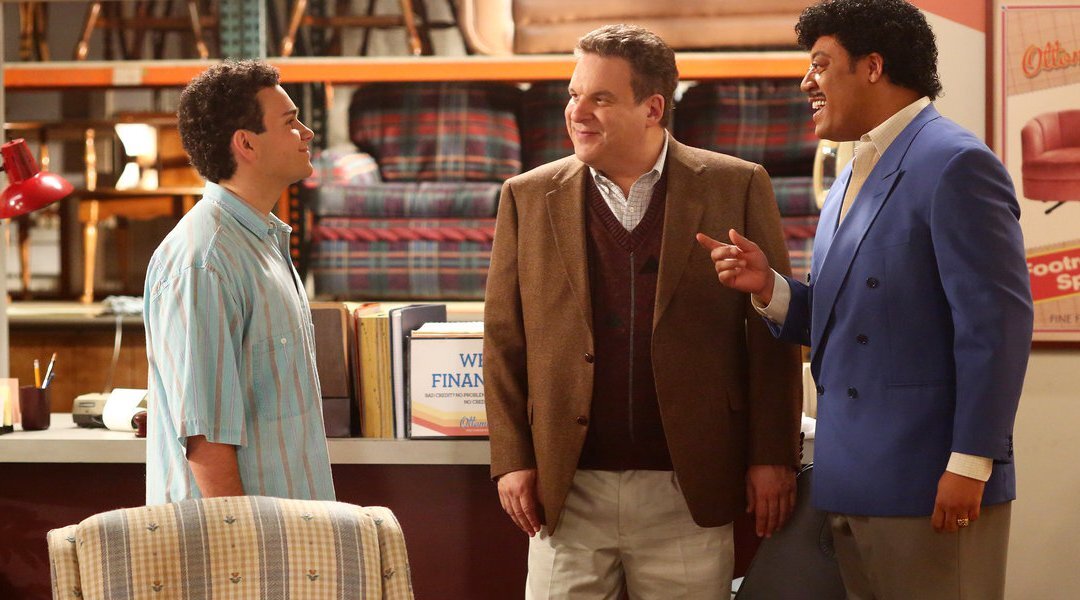 Mini Murray 01x03
09.10.2013
After Barry pleads for money to purchase a very expensive item, Beverly says he must earn the money himself so Murray suggests he go to work at the Ottoman Empire furniture store with him. Barry soon learns being a salesman is very different than what he expected. Meanwhile, Adam and Pops attend an R-rated movie without telling anyone and they struggle to keep it secret from Beverly.
Daddy Daughter Day 01x02
02.10.2013
Just as a new school year begins, Murray and Erica's family tradition of spending the first Saturday together roller-skating is in jeopardy since Erica has turned into a moody teenager and believes the activity is juvenile. Once at the rink, things take a turn for the worse that neither father nor daughter could have foreseen. Meanwhile, Beverly takes Adam shopping for new school clothes and is dismayed when Pops has other plans.
Circle of Driving 01x01
25.09.2013
In the premiere episode, "The Circle of Driving," Barry wakes on his birthday expecting to get a car, but is disappointed at the kitchen table when Beverly says that he's not ready for that responsibility and gives him something else that shocks him. Pops complicates matters by giving Barry the car he wants, but Beverly instantly makes her father take the car back. Meanwhile, Adam seeks Pop's advice on his crush at the local diner.