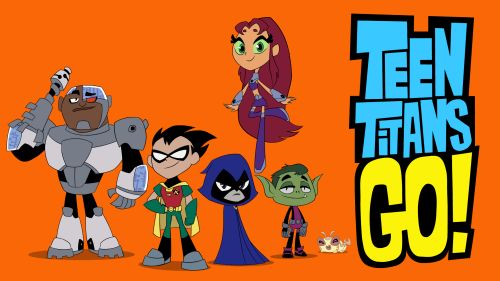 Teen Titans Go! is a character-driven comedy series focuses on the funny that happens in between saving the world and living together as teenagers without adult supervision. The comedic mayhem of the animated series is punctuated by pranks and the occasional need to fight crime, but it will also deal with the everyday issues of adolescence. With epic staring contests to decide who does the laundry, a series of quests and battles to construct the perfect sandwich or fighting crime in Jump City, one thing is for sure, these Titans will always be ready for an adventure inside the house and out.
Add to my shows
Next episode
Control Freak 07x29
tomorrow
Latest episodes
Glunkakakakah 07x28
sunday
Robin teaches the other Titans the art of concealment through a game of hide and seek.
Captain Cool 07x27
14.11.2021
Breakfast 07x26
07.11.2021
Pepo the Pumpkinman 07x25
28.10.2021
A magic hat brings the Titans' pumpkinman to life, but they have to figure out how to keep Pepo from rotting.
Dc 07x24
24.10.2021
It's Wonder Woman's 80th birthday, so the Titans head to DC Headquarters for the party.
Jam 07x23
17.10.2021
Harley Quinn, Poison Ivy, and Catwoman recruit Starfire and Raven for their roller derby team.
Fat Cats 07x22
10.10.2021
After winning a huge cash prize, the Titans learn about the IRS and taxes.
Doomsday Preppers 07x21
03.10.2021
The Tower is in lockdown and supplies are being gathered, as the Titans prepare for Doomsday.
What a Boy Wonders 07x20
26.09.2021
Batman's Birthday Gift 07x19
19.09.2021